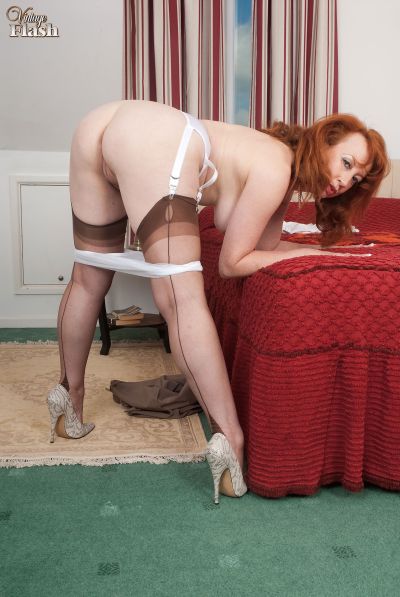 'See how my skirt looks as it clings tightly around that bottom holding everything in place,' Red said, as she looked back over her shoulder and slapped one hand against her rump.
'I think your eyes have strayed to my seams, haven't they,' she remarked, noticing I was looking at her legs in their fully-fashioned nylons, and bent down to draw her hand up from her ankles and the back of her shapely calves. 'I feel very naughty when I'm dressed up like this, because I know you want to peak up my skirt.'
Sitting on the bed she crossed her legs and deliberately rubbed them together to create that fabulous sound of nylon brushing against nylon, which she knew I found so sexy. Then she hiked up the edge of her tight skirt and displayed the array of suspenders attached to the tops of her full-fashioned nylon stockings.
'Nice metal suspenders, straining to keep my thighs in place,' she said, slipping her hand under the welt of her nylons and spreading her fingers over the bare flesh of her thigh to give it a feel.
Undoing her cardigan she opened it to squeeze her breasts through the white satin bra she was wearing underneath, then she got up and leaned over so her skirt wrapped tightly around her arse and her suspenders showed up as bumps through the tight material.
Red unzipped the skirt and wiggled her hips as she pulled it downwards over her ass, uncovering the white, sheer nylon panties that encased her full rounded buttocks and the long suspenders which tugged on the tops of her seamed nylon stockings.
Reclining on the bed she spread her legs and felt her mature pussy through the flimsy material of her sheer nylon panties, then rubbed her legs together which caused the straps of her garters to strain against the tops of her nylon stockings.
Kneeling, she then removed her bra to shake her all natural breasts free of their restriction. Giving them a quick jiggle, she lifted and squeezed the mounds of her tits together as she massaged them in her hands.
Hooking her thumbs into the waistband of her panties she teased them down so they were stretched around her thighs. Then laying back she lifted her arse off the bed and tugged her knickers down over the bumps of her metal suspender clasps and pulled them off over her heels.
Red then lay face down on the bed, kneeling slightly with her stockinged legs wide apart, and I watched as she openly fingered her hot, mature cunt to orgasm.
Get our superb Vintage Flash newsletter each week - all the latest model info, updates, set preview pics and more!