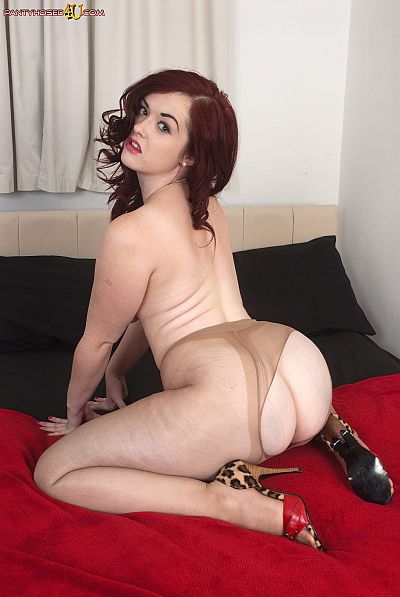 Jay had dressed to go to a party in a short black dress, sheer nylon pantyhose and heels, and feeling very horny she decided to tease me with a naughty nylon show.
'There's something about pantyhose that make me feel really naughty, maybe it's because they are so tight,' she said, caressing the layer of glossy nylon clinging around her shapely figure. 'I know you love my pantyhose and the way they cling to my legs like a second skin,' she continued, pinching the tight nylon between her finger and thumb, then letting it snap back against her thigh.
'Would you like to come and rub your cock on the crotch of my pantyhose?' She suggested, now bending over to present me with a rear view of her sumptuous pantyhosed ass encased in sheer glossy nylon, then giving it a sexy, suggestive wiggle.
Sitting on the bed she crossed her pantyhosed legs, then rubbed one leg against the other to make them whisper with the electric sound of nylon brushing against nylon. She remarked how her flesh felt sensitive and ticklish under her pantyhose, as she drew her fingernails across the tight nylon fabric covering her shapely legs.
'Now you can see my pantyhose in all their glory,' she remarked, having stripped off her dress. Leaning forwards she reached down and moved her hands up her legs in their shiny hosiery. 'Look how tight they are against my thighs; can you see how they catch the light and make all of my legs shine?'
Jay turned to push her hands down the back of her pantyhose and grabbed handfuls of her fleshy buttocks, then lying on the bed she pulled on the waistband of her hose and stretched them right up to her tits, sheathing her body in sheer nylon. She then dug her fingernails into the tight nylon surrounding her pussy and ripped at the crotch, which laddered in several directions across her thighs as she opened a hole in the tensile nylon fabric.
Kneeling on the bed she exposed the lips of her hot, juicy pussy and fleshy buttocks through the hole in the seat of her hose. Then reaching behind she bounced her lovely round arse up and down as she fingered her tight, moist cunt and masturbated to climax in her pantyhose.
Get our superb Vintage Flash newsletter each week - all the latest model info, updates, set preview pics and more!