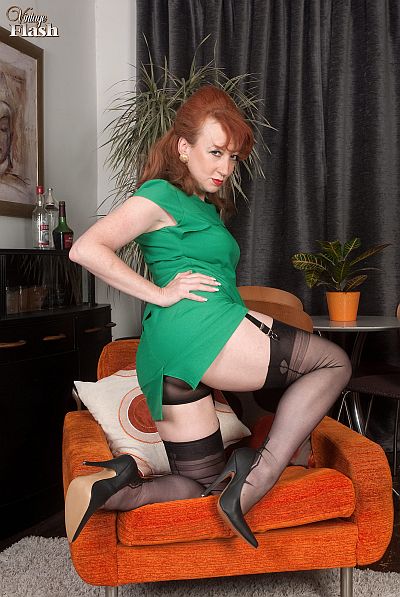 Red is ready to give you a lesson is masturbation and she's dressed for the occasion in sexy black lingerie, full-fashioned nylon stockings and heels.
'While you glance over my wonderfully nyloned legs and heels, I think you should get your cock out right now', she suggests, her hand caressing her sexy stockinged legs and giving tantalizing views of her stocking tops just under the hem of her dress.  Pulling on her suspender strap, she runs it between her finger and thumb and then lets it snap back against the naked flesh of her thigh.
Standing she runs her hand up the back of her leg, showing you the line of her seam where she wants you to rub your cock and leave a nice trail of pre-cum all the way up her stockings. She teases with views of her ass in sheer black panties through which her naked pussy can be seen; the taut black suspenders of her sexy garterbelt stretching over her buttocks and thighs as she wiggles her ass for your sexual delectation.
Red strips off her dress and sitting she massages her breasts through the tight fitting, black satin bullet bra she is wearing. 'Just imagine how that would feel if you slipped your cock in there and I wanked it for you a bit,' she says suggestively, pressing the cups of her bra together and offering her voluptuous cleavage as a place where you could put your cock. Then removing the bra she lets her boobs hang free and juggles the fleshy mounds in her hands, tweaking and rolling the hard, erect nipples between her fingers.
Red then strips off her black panties and lays back with her stockinged legs parted, spreading the lips of her cunt wide open as she masturbates with her fingers deep inside her hot, moist hole. She bucks her hips with increasing rhythm as she builds up to her orgasm and encourages you to masturbate and cum at the same time as she climaxes.
Get our superb Vintage Flash newsletter each week - all the latest model info, updates, set preview pics and more!