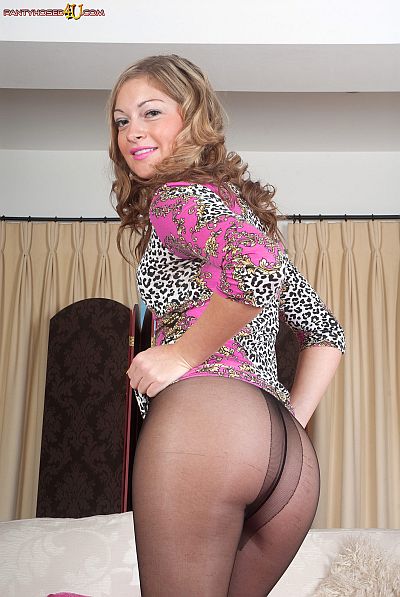 Lovely Melodii looked very sexy in her short dress as she sat and ran her hands over her slender legs in shiny, black nylon pantyhose. 'I love feeing them, they feel so smooth and silky,' she said, smiling pleasurably at the sensation of her hands as they swept over her nyloned legs.
When she stood up her short dress barely covered her thighs, then turning she gave me a rear view and ran her hands over the cheeks of her sexy ass encased in tight, shiny nylon. Melodii then turned again to show me her pantyhosed crotch under which she was sans panties, and as she delicately moved her hands over her thighs the ceiling lights reflected electric bands of light over the surface of her shiny pantyhose.
Meloddi stripped off her dress and bra and played with her tiny teen titties, then sat back with her legs apart to show off her fleshy pussy behind the nylon screen of her pantyhose. She pushed her hands down the front of her hose and moved them around under the tight nylon as she felt her thighs and spread the lips of her pink, moist pussy.
Meloddi ripped open the crotch of her tights and then knelt to widen the hole at the rear so the flesh of her buttocks expanded through the torn nylon. Her lovely pussy and butt-hole fully exposed, she dipped her fingers in her sticky hole with the palm of her hand slapping against the lips of her naked cunt as she frigged herself off to orgasm.
Get our superb Vintage Flash newsletter each week - all the latest model info, updates, set preview pics and more!