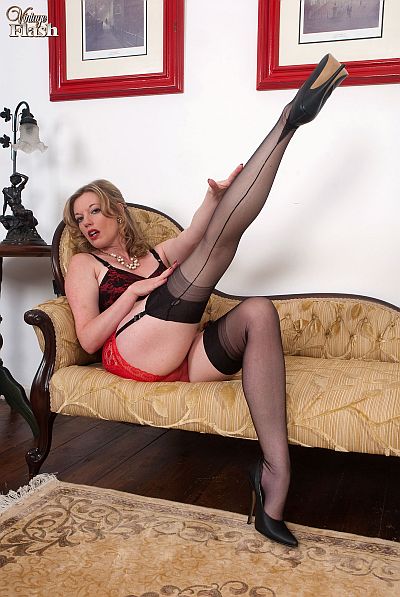 'I wanted to create this tableau for you to admire me dressed in stockings and panties,' Holly said, as she lay stretched out on the chaise-lounge posing in her red and black lingerie, nylon stockings and heels. 'I can see it's having the effect I wanted it too!'
I'd just got in from work and found Holly waiting for me dressed only in her sexy attire. Wearing fully-fashioned nylon stockings and heels, which she had intentionally worn to arouse my interest and appreciation, she got up and stood before me to display her fabulous form. 'You've noticed they are rather sheer around the gusset area,' she said, drawing attention the front of her red sheer nylon panties through which I could see the lips if her cunt quite clearly.
Slipping her hand down the front of her panties, I watched closely as she rubbed her pussy behind the sheer nylon fabric. Then she stood over me and hooked her thumbs under the waistband and wiggled her hips as she slowly tugged them down over her suspender clasps until they were stretched around the tops of her stockinged thighs. She pulled the front of her panties outwards, and as I looked up I could see her pussy through the taut, sheer nylon which was stretched between her fingers.
Sitting down to remove her panties, she pulled them over her heels then slipped out of her bra and lay back with her legs apart to expose her naked cunt to full view. 'That's it, let me see you rub your cock,' she said encouragingly, lifting her legs upwards and running her hands up and down her seamed nylon stockings which wrinkled about the back of her knees. 'I want to see it bulge and swell, because then it makes my pussy very wet', she added, spreading her moist pussy and showing me the hot, swollen hood of her erect clitoris between the glistening lips of her labia.
Holly licked her fingers and applied them to the pink flesh of her throbbing clitoris, vigorously moving her hand as she massaged the hot lips of her gaping cunt. She inserted several fingers up her moist hole, which made sticky, wet sounds as she masturbated. Her hand continuously rubbed at her hot snatch as she slowly built up the sexual tension in her loins, until she finally reached an orgasm which made her moan loudly with it's sudden intensity.
Get our superb Vintage Flash newsletter each week - all the latest model info, updates, set preview pics and more!