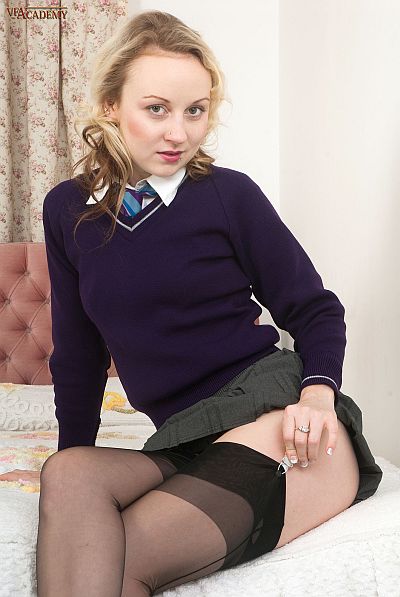 Kiana was waiting in her room for Kim to arrive so they could spend the afternoon together having some girlie fun. She'd even bought her friend a 'rampant rabbit' vibrator as a special present, but Kim was late for their tryst and Kiana was getting impatient.
'She was meant to be here about five minutes ago, and she's not coming, so I wonder if I can have a quick play on my own,' Kiana said, sitting on the bed with her skirt pulled over her stockinged thigh, fiddling with one of the clasps of her suspenders. ' I can have a little play, get all excited and you can get your cock out and play with yourself at the same time! How does that sound?'
Making me promise not to tell anyone, Kiana stripped out of her uniform down to her white cotton panties, bra, suspender belt and black nylon stockings. Removing the bra revealed the soft mounds of her petite breasts with their pink puffy nipples. Then she lay back on the bed and slipped her hand down the side of her cotton panties to give her pussy a feel.
Kiana played with herself for a while and rubbed her pussy through the crotch of her panties, then she pulled them down her stockinged legs, leaving them stretched around her ankles as she continued to masturbate. Her fingers massaged around the nub of her clitoris, causing the pink fleshy lips of her vagina to open like petals with the circular motion of her hand.
Taking the dildo that she had intended to give to Kim, she reclined in her heels and black nylons and inserted the shaft of the object between the soft, wet lips of her pussy. Kiana bucked her hips in a fast rhythm as she thrust the dildo inside her hot cunt, the webbing of her garter belt tugging on the tops of her nylon stockings as she made herself cum.
Get our superb Vintage Flash newsletter each week - all the latest model info, updates, set preview pics and more!