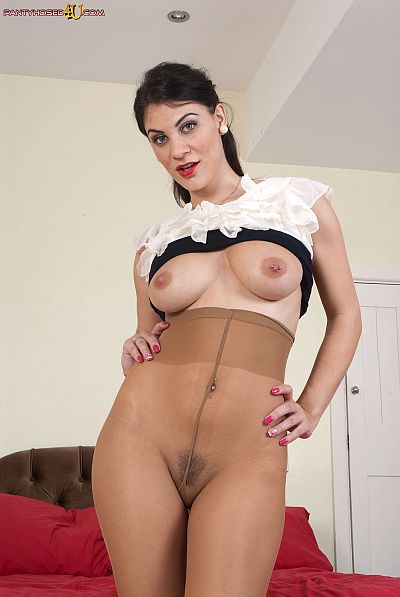 Roxy wasn't pleased when I turned up late for our date together, especially as she had gone to the effort of dressing up sexy in some expensive designer pantyhose which she had bought for the occasion.
Her ruffled white top and short black skirt, shiny new pantyhose and red heels were intended to be a nice surprise for me, but having waited over an hour she was not in the best mood. Rather than let me touch her, she decided to tease me, instead of allowing me to get my hands on her lovely ass and pussy in her sexy nylon tights.
'Well your punishment is you're not allowed to touch, you can just watch me,' Roxy said, laying back and opening her legs to give me a teasing look at her nyloned cunt and ass. 'You can stand there and get your cock out, that's all you are allowed to do.'
As she sat on the edge of the bed with her legs open letting me peek up her skirt, I could see the trimmed hairs of her bush through the sheer nylon of her hose. She massaged her pubes through the patch of reinforced nylon gusset, then pulled the gusset to one side to show me the luscious pink lips of her pussy compressed behind the tight nylon mesh of her pantyhose. 'That's it you wank your cock for me nice and slow', she said, as she rubbed the flesh of her juicy pink slit through the sheer erotic nylon.
Roxy slipped her hand down the front of her hose and I watched it move behind the stretchy nylon screen as she fingered her moist, juicy cunt. She then got into a kneeling position to give me a view of her nyloned ass and made me watch as she fondled the mound of her pussy through the crotch of her nylon tights.
Roxy then turned around to kneel and pulled her pantyhose up by the waist so they were stretched tight around her cunt. I came in close for a better view as she rubbed the hard, pink nub of her clitoris through the tight, sheer nylon. Then slipping her hand down her hose once more, she vigorously massaged her hot snatch with increasing rhythm and threw her head back and moaned loudly as she climaxed in her pantyhose.
Get our superb Vintage Flash newsletter each week - all the latest model info, updates, set preview pics and more!