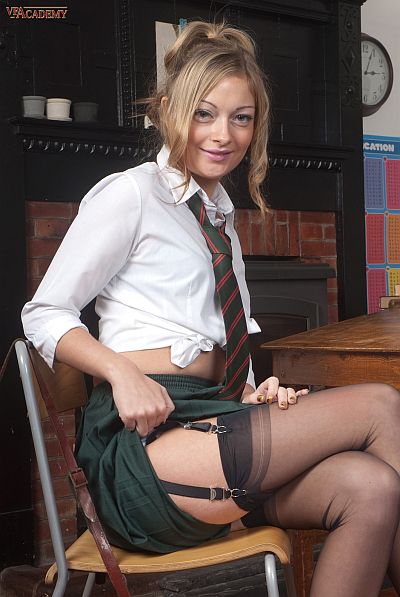 New academy girl Melodii had been showing off her pussy to the groundsman behind some bushes close to the academy playing field. She marveled at the size of his dick which he had promised to show her, but he soon made off when he saw the headmaster attempting to enter the shrubbery.
Caught behind a bush with her knickers down around her legs, Melodii explained to the headmaster that she was just taking a pee. She almost got away with her lies, but the headmaster saw through her deceit and made her stay in detention after class to do extra work as a punishment.
It didn't take long for our horny janitor to join her in detention and see what this new girl was all about. He discovered she was just as curious to see the size of his cock also, and encouraged him to get it out while she lifted her pleated skirt and teased him with views of her nylon stocking tops and panties.
Melodii sat on top of the teacher's desk with her legs open and pulled up her skirt around her waist to give him a better view. She rubbed her pussy through her sheer nylon panties, and then removed her crisp white shirt and bra to show him her petite breasts with perky pink nipples.
After removing her skirt she stood and teased her panties over the cheeks of her ass and left them stretched around the tops of her stockinged thighs a moment, before letting them fall to her patent leather heels.
Melodii sat once more on the desk and spreading her legs she slipped her fingers between the moist, pink lips of her pussy. Rubbing her clitoris using circular motions of her hand she pleasured her cunt and threw her head back as she reached her orgasm.
Get our superb Vintage Flash newsletter each week - all the latest model info, updates, set preview pics and more!