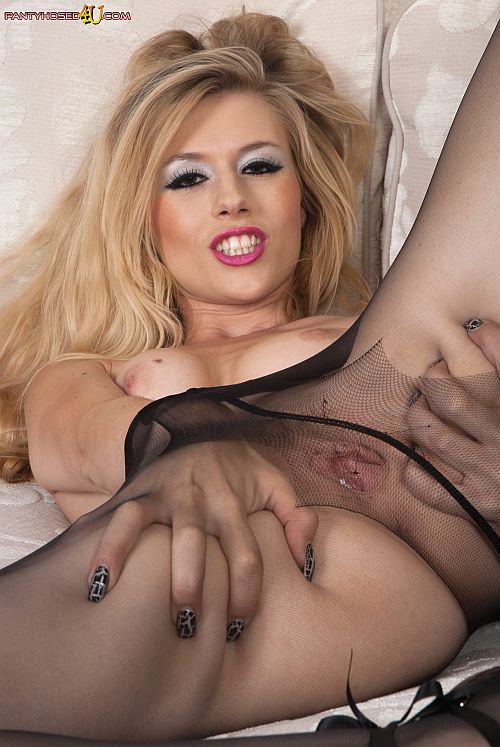 Michelle enjoys being an exhibitionist, especially when she's wearing sheer nylon pantyhose under a short dress to attract the attention of lots of guys, who can't help but turn and look at her legs in their shiny pantyhose and heels.
Michelle finds pantyhose very convenient whenever she needs to flash her pussy at some opportune moment. Recently she was sitting on a bus opposite some guy who was eyeing her up and looking at her legs, so she deliberately opened them to give him a quick look up her dress at her pantyhosed cunt and then crossed them as if nothing had happened.
'Maybe, if you see me, I might flash you like that too,' she said, lifting up the front of her dress to give a close up view of her cunt behind the sheer nylon of her pantyhose. 'I do like to flash my nyloned pussy, it looks so good in these pantyhose.'
Michelle lightly stroked her pussy through the tight nylon crotch, then moved her hands over her thighs and around to her ass, saying, 'The good thing about pantyhose is they look fantastic around my bottom.' Turning around she gave a close up view of her buttocks sheathed in slinky black nylon, then lifted her dress up slightly and leaned over to show how she likes to tease with views of her pert ass in sexy sheer pantyhose.
'Once I've done with my exhibitionism I do tend to get very horny and of course, loving my pantyhose so much it would be rude not to play with them.' Stripping out of her dress Michelle then stretched the front of her pantyhose upwards so the nylon crotch was pulled tight against the lips of her cunt to form a cameltoe.
Michelle then got into a kneeling position and presented her nyloned ass and cunt to full view; her hands working behind the sheer nylon as she massaged and fingered her holes. She spread the lips of her glistening pussy open wide with the fingers of one hand and touched her butthole with the fingers of the other as she masturbated with increasing pleasure and finally climaxed in her pantyhose.
Get our superb Vintage Flash newsletter each week - all the latest model info, updates, set preview pics and more!