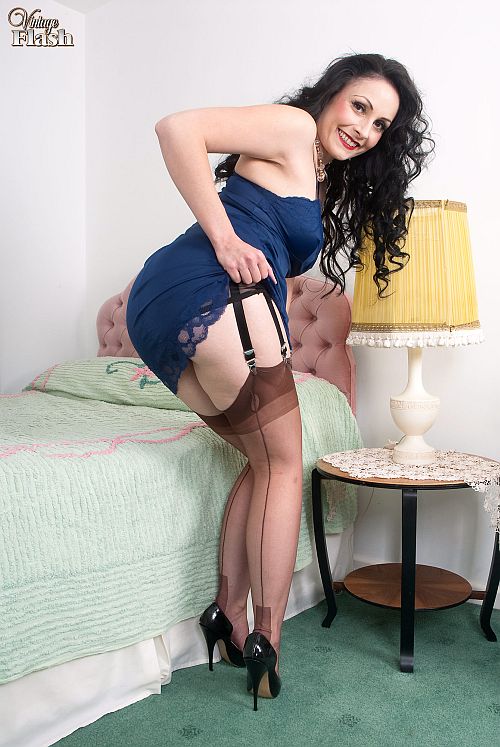 Sophia's quick call to your boss telling him that she needs you at home because she is ill, gets you off work for the afternoon. When you arrive home you find her in the bedroom all dressed up in her sexy nylon slip, coffee coloured fully-fashioned stockings, multi-strap gaterbelt and patent leather heels. She isn't really ill, it was just an excuse, because what she really wants is to feel your hands all over her body and give her the fucking she needs.
'I've been waiting for you to come home all afternoon, just sitting here playing with my pussy. I can't help it, because I want you inside me and feel your cock squeezing into my tight little cunt,' she says, as you scan her lovely body and sexy legs in her nylon stockings and kinky heels.
Sophia removes her slip to uncover her natural breasts and juggles them in her hands, suggesting that you place your cock in her cleavage while she wanks it between her fleshy mounds. She then lays back and hooking her thumbs in the waistband of her panties, pulls them down over the bumps of her suspenders and leaves them stretched around her stocking thighs. Then lifting her legs upwards so the seams of her stockings run parallel, she spreads the pink lips of her pussy and fingers the moist slit glistening with her juices.
Both teasing and inviting, Sophia sprawls on the bed to gives you the best view of her lovely legs as she gets into lots of positions and shows you how she'd like to be fucked. Then kneeling on the edge of the bed she presents her ass, saying, 'would you like to bend me over and be really naughty, stand behind me and put your hands on my thighs and pull me harder onto your cock!'
Sophia reaches between her thighs and spreads the lips of her cunt, moving her suspendered ass and making them pull on the straining tops of her seamed nylon stockings. 'Or I could climb on top of you,' she suggests, now getting into an on top position so her face and breasts are hanging right over your head. 'You could watch me riding your cock and making my tits bounce while I'm fucking you.'
Are you ready to give Sophia the fucking see needs? This sexy brunette wants it every which way and will wrap those nylon stockinged legs around you while you give it to her hard and deep.
Get our superb Vintage Flash newsletter each week - all the latest model info, updates, set preview pics and more!