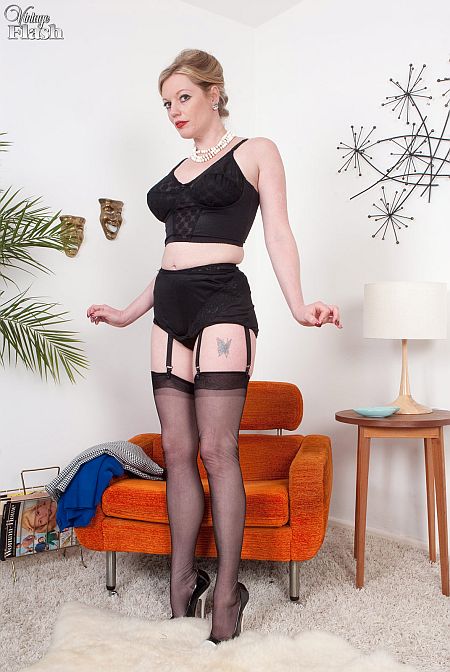 Miss Holly demonstrates how a hard working 1960's secretary likes to relax in her nylon stockings, suspenders and heels after a long day in the office, in our latest Vintage Flash Video.
Wearing a cardigan, checkered pencil skirt, seamed nylon stockings and heels, Miss Holly looks like every stylish and well presented secretary of the 1960's. Her tidy hairstyle and pearl twinset around her neck add a touch of elegance, completes her prim and proper appearance.
However, when Miss Holly gets home and has time to relax in her modern apartment, she is anything but prim or proper.
'It's important you know, for a lady to look good, dress well, and that always starts with what she wears underneath,' Holly says, as she sits with legs crossed and the hem of her tight pencil skirt pulled back so the tops of her nylon stockings are showing.
'I've got some absolutely gorgeous nylon stockings on today, with reinforced heel and toes,' she says, as her hands follow the contours of her slender legs sheathed in nylon. 'I always find black stocking have excellent sex appeal, don't you think?'
Stripping off her tight skirt and removing her black bra, Holly pulls down her soft satin panties over the naked globes of her splendid arse. Then getting comfortable in her chair, she strokes her nyloned legs and slips off her shoes to display the reinforced soles of her stockinged feet.
Holly then opens her legs and begins her languorous pussy play, eventually bringing herself to orgasm with fingers knuckle deep in her juicy pink cunt hole.
See secretary Holly Kiss masturbating in nylon stockings and suspenders in this (207 image) photo set and video – 'Mid-Century Modern Miss'.
Get our superb Vintage Flash newsletter each week - all the latest model info, updates, set preview pics and more!