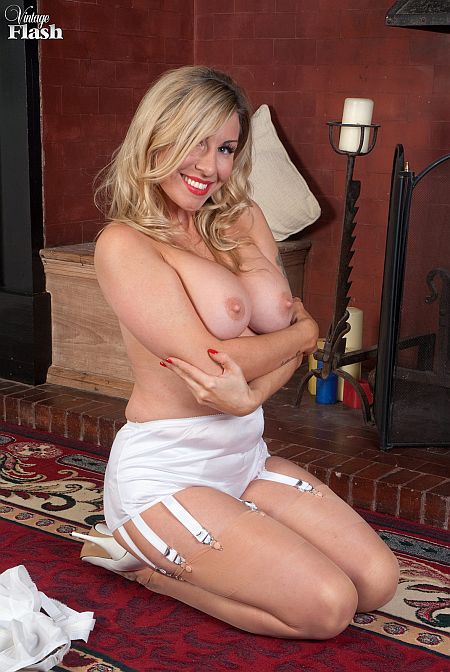 Saffy chose to get back in front of the VF camera this week, because she loves our site and wanted to make a special videos for you guys. Knowing how you are all fans of vintage nylon stockings, she wore some unusual sandle-foot nylons from New York, especially for this photo set and video.
Wearing a sexy outfit to showcase her fabulous figure, Saffy began by sitting and stroking her stockinged legs, slipping off one of her 6 inch pumps to show off her nyloned foot in close up.
Standing, she lifted her pencil skirt to reveal she was wearing deep-cut satin panties, and a multi-strap suspender belt attached to the tops of her lovely tan nylon stockings.
'It's making me feel very horny wearing my sandle-foot nylon stockings and silky satin panties,' Saffy said, pushing her hands down the front of her white satin knickers and giving her pussy a feel.
Unbuttoning  her blouse, Saffy pulled it back around the cones of her 50's bullet bra, which was holding her very large breasts firmly in check. Then undoing her bra, she slipped it off her arms and let her tits swing free. Cupping the mounds of voluptuous flesh in her hands, she pressed her boobs together and pushed them very close to the camera lens.
'It's time to take off my knickers and reveal my nice, juicy pussy,' Saffy said, then knelt on the floor and tugged at the waistband of her panties, pulling them over her round buttocks and slipping them down her legs.
Still on her knees, Saffy tilted her ass upwards and pulled the lips of her pussy apart, using one hand to massage her clitoris in a circular motion.
'Oh, that feels so good,' she remarked, as her masturbation picked up it's rhythm, 'knowing that you boys are wanking your cocks over me, it's good to be back!'
Saffy then lay on the rug with her stockinged legs spread wide and openly masturbated with fingers rubbing the lips of her hot cunt. She talked explicitly as she imagined all those cocks wanking over her nylon stockings, pussy and ass while watching her video.
'That's it fuck me hard, with your cock deep in my pussy,' Saffy exclaimed excitedly as the rhythm of her masturbation increased and she climaxed with fingers knuckle deep in her throbbing cunt.
See Saffy striptease down to her stockings and suspenders in this (186 image) photo set and watch her masturbating to orgasm in her video 'Essex Girl In New York Nylons'.
Get our superb Vintage Flash newsletter each week - all the latest model info, updates, set preview pics and more!