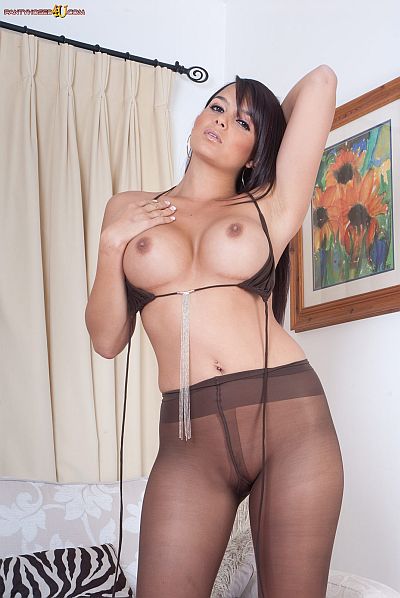 Sasha was getting ready to go to a posh party, and being a very smart and stylish girl she decided to wear a low cut brown dress, coordinating Wolford pantyhose, and six-inch stiletto heels for the occasion.
'I'll have to be careful I don't bend over,' Sasha said, concerned her tight dress may be a bit too short for this posh party. 'I actually don't have any knickers on!'
Sasha confessed she didn't like wearing knickers with hose, preferring to feel the sexy sensation of pantyhose against her pussy and ass.
'Although these pantyhose aren't actually see-through,' she added as an after thought, opening her legs to show me the opaque patch of her tights. 'I'll just have to keep my legs crossed,' she concluded.
Feeling frisky in her sexy new outfit, Sasha decided she had time to put on a little pantyhose show for me.
She began by removing her dress, letting it slip over the globes her pert ass cheeks and down her long svelte legs encased in tight brown nylon.
Then laying on the couch she massaged her pussy through the reinforced gusset of her hose; pushing the tight nylon screen into the folds of her moist cunt, soaking the crotch of her new nylon pantyhose with her musky juices.
Pulling down her pantyhose until they were wrapped around her legs, Sasha then masturbated with a large dildo, making her cunt juices flow around the shaft of the cock like object as it stretched her pussy wide.
Sasha then stuffed the dildo up her cunt, and pulling her pantyhose back up her legs, she let the gusset hold the object firmly in place. The further she pulled up her tights, the  deeper the dildo went up her sex hole, causing her pussy to spasm with waves of pleasure.
Holding the dildo through the crotch of her hose, Sasha shoved the object deep in her sopping wet cunt, causing her to experience an intense orgasm as she climaxed in her sexy nylon pantyhose.
See Sasha masturbating in her classy pantyhose in this (157 image) photo set and 21 minute hi-def video – 'Dressed To Impress'.
Get our superb Vintage Flash newsletter each week - all the latest model info, updates, set preview pics and more!