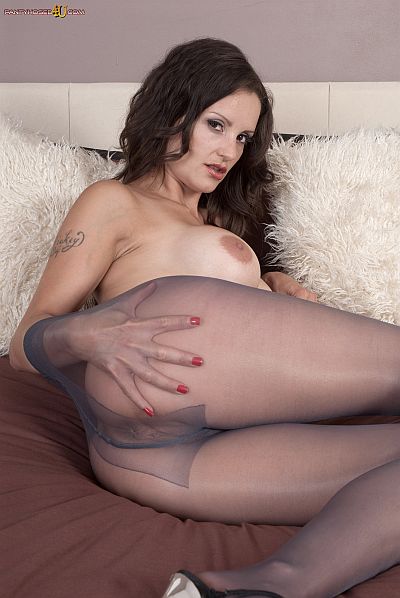 "Do you fancy a bit of wild pussy today?' asked Val, as she raised her slinky leopard print dress and showed me the glossy grey pantyhose covering her waist, pussy and thighs.
I could see the pattern of light shimmering across the glossy surface of her shiny pantyhose as Val seductively snaked her hips in front of me.
Those pantyhose looked so incredibly tight about her hips, ass and thighs as I watched Val run her hands from her ankles up the back of her sheer nylon hose to the round globes of her ass.
'You'd give anything to be stroking my sexy nyloned legs right now,' she said, teasing me with the sight of her slim but firm legs and pert buttocks encased in shiny nylon. 'Bet you'd love to stick your tongue right up the crack of my pantyhosed ass, wouldn't you?'
Val then lay on the bed and pulled her pantyhose tight against the crinkled lips of her pussy, then pressed her finger up the thick reinforced seam and rubbed it against her clit.
'I love the feel of my arse through this nylon material', said Val, grabbing her buttocks and pulling the cheeks apart so the pucked ring of her ass was further exposed through the tight nylon mesh covering her rear.
'Can you see what I'm doing?' she asked, as she pushed her hands down the back seat of her hose, and slipped her fingers into her musky fuck hole. 'Oh, I've got my middle finger right up my cunt.'
Val eventually ripped the arse out of her pantyhose and masturbated by thrusting a vibrator up her slippery cunt to reach an intense pussy throbbing climax.
See Valantina masturbating in her sheer nylon pantyhose in this (155 image) photo set and video 'Wild About Pantyhose'.
Get our superb Vintage Flash newsletter each week - all the latest model info, updates, set preview pics and more!