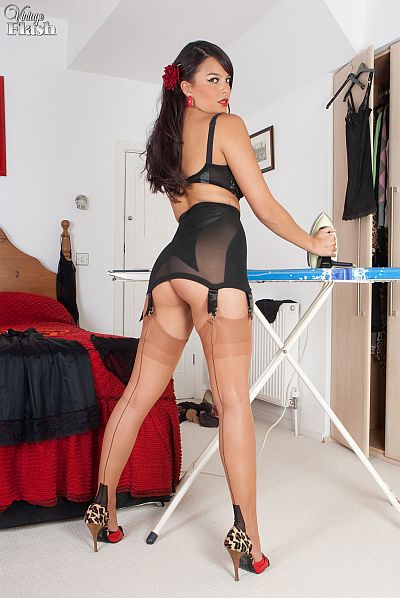 Standing at the ironing board dressed in her lacy black bra, open-bottom girdle, tan nylon stockings and heels, Sasha chatted away as she did her ironing chores.
She was feeling rather frisky, after reminiscing about a pair of black panties that she recalled had been pulled down one evening when she went for a fuck in the woods.
Sasha wiggled her girdled hips as she pushed the iron back and forth, giving a nice view of her sexy ass as she finished off  ironing her silky petticoat.
'That feels marvelous,' Sasha said, as she held the soft silky material of her petticoat against her body and rubbed it over her bare flesh.
'You should see how it looks on,' she continued, 'it just slips right over my big, full breasts and my hard nipples just poke right out!'
Having finished her housework, our young housewife decides so have a little 'me time' and reclines on the bed to masturbate in her sexy girdle, nylons and heels.
'I bet your wondering how naughty a housewife can get, aren't you?' she asks, as she lays back with her stockinged legs wide open, rubbing her finger over the pink flesh of her hard clitoris.
'Well let me tell you, I can get very dirty,' she says, slipping her fingers in and out of her moist cunt hole as she masturbates on the bed.
Getting on her knees so her girdled ass, stockings and suspenders are on full view, Sasha inserts fingers from both hands simultaneously up her gaping cunt to give herself extra pleasure.
Then, lying on her back she spreads her stockinged legs wide, and frigs herself off to a loud climax with fingers deep inside her throbbing cunt.
See Sasha Cane masturbating in her nylon stockings in this (163 image) photo set and 15 minute video – Doin' My Smalls' at Vintage Flash.
Get our superb Vintage Flash newsletter each week - all the latest model info, updates, set preview pics and more!