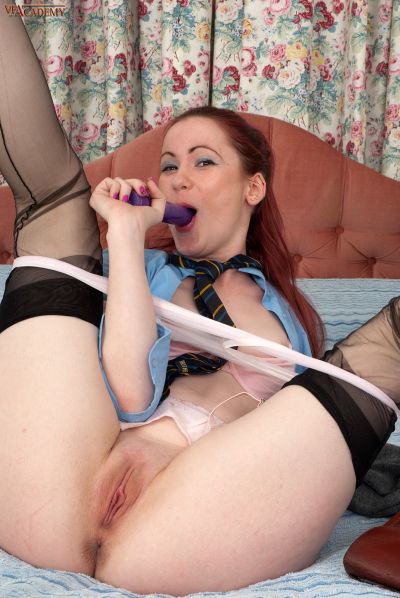 It's a hot Spring day when all the other Academy Girls are out enjoying the good weather, but Vicki has been sent to stay in her room as she'd been sharing her dirty thoughts with the other girls during the morning break.
'Well I've been sent up here for having "unclean thoughts", which apparently is bad. But I don't get how it's bad, because I think it's fun!' She says, opening her legs so we see up her pleated skirt at her panties, pink suspenders and stocking tops.
Vicki's naughty thoughts have made the front of her panties wet; so wet you can see her moist pussy slit and almost smell her cunt though the damp patch at the front of her sheer nylon knickers.
Our naughty minx then strips off her skirt and gets on her knees, pulling the crotch of her panties tightly up her arse crack and rubbing her pussy through the sheer material of her nylon knickers.
'It's lovely and wet for you', says Vicki, her hand working inside her sheer nylon panties as she fingers her hole.
As she lays back on the bed, Vicki tugs her knickers down her seamed stockinged legs until they are stretched around her ankles, then spreads her pink pussy lips, holding them open for us to see as she finger fucks her moist cunt hole.
Having pleasured her pussy until it is hot and throbbing, Vicki then puts her sticky fingers in her mouth to taste her juices and lick them clean
Vicki then sticks two fingers up her arse and fucks her butthole. 'It just feels so good, and so naughty because it's not my little pussy,' she says, pulling out her fingers and tasting her own ass as she sucks them in her mouth.
In need of some cock, Vicki reaches for her vibrator and slips it up her hot juicy pussy, watching herself in a mirror as she reams her cunt with her buzzing sex toy and climaxes in a paroxysm of orgasmic pleasure.
See Vicki Peach masturbating in nylon stockings and panties in this (139 Image) photo set and full length movie – 'Unclean Thoughts' at VF Academy.
Get our superb Vintage Flash newsletter each week - all the latest model info, updates, set preview pics and more!