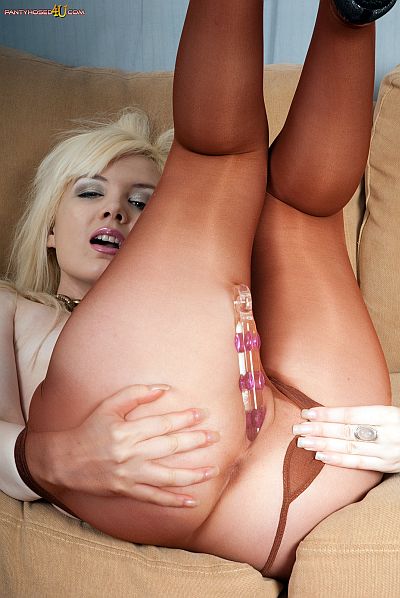 Petite blonde Faye was wearing some Fogal nut brown pantyhose and a skimpy mini dress when she turned up to do this video for pantyhosed4u.com.
I noticed how her nylon pantyhose had a nice glossy shine, clinging tightly to her shapely legs, and the curves of her pert little ass as she posed with that short dress barely covering her butt.
'You'll notice I'm not wearing any underwear,' she said as she sat on the sofa, licentiously parting her legs to show me she was sans panties.
'It feels sexier having these pantyhose against my naked pussy,' she added, her hand reaching down to stroke her pussy through the reinforced patch of on her pantyhose, her fingers massaging her slit through the opaque nylon material.
Faye teased me further, masturbating in several positions through her pantyhose, getting on her knees and spanking her ass through the tight mesh encasing her fuckable arse.
She even took off her shoe, and used the spike of her heel to stimulate her clitoris through the tight nylon screen covering her hot cunt.
Then Faye showed me her nylon covered feet and made her pantyhose swish as she moved her legs together, one hosed leg rubbing against the other.
Working her hand inside the sheer nylon of her pantyhose gusset as she masturbated, her moist pussy made liquid sounds as she eagerly fucked herself with fingers and her favorite glass dildo.
Then finally pulling her hose down so they were tight around her thighs, she pressed her legs together and plunged her dildo into her sticky fuck hole until she reached a breathtaking climax.
Watch Faye Taylor masturbating in her nylon pantyhose in this (136 image) photo set and 17 minute video – 'Sexy Sofa Teaser' at Pantyhosed 4u.com.
Get our superb Vintage Flash newsletter each week - all the latest model info, updates, set preview pics and more!