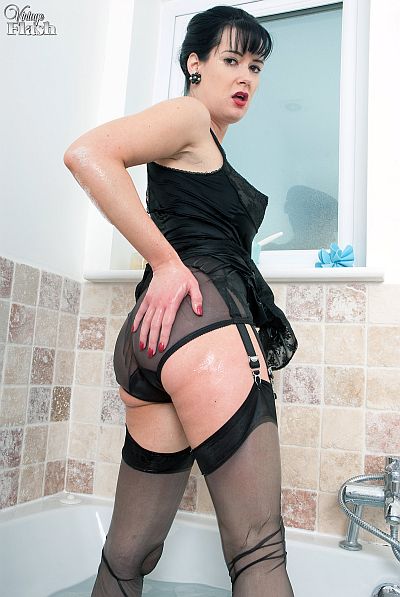 Tanya was getting ready to go to bed, but feeling so horny she couldn't make her mind up if she should get in the bath or have a wank first!
Thinking about it, she looked in the mirror at her beautiful figure, checking her makeup and smoothing her hands over the silky satin slip she was wearing. Enjoying the sexy sensation of her slip against her body, she moved her hands over the silky material to press it against her naked flesh underneath.
'No fuck it! I'm going to get in the bath and get my sexy slip soaking wet to match my dripping wet cunt,' Tanya concluded, lifting up her slip to expose her stockings and multi-strap suspender belt, then rubbing her hand over the crotch of her panties. 'I'm getting horny just thinking about it!'
Tanya ran the bath, then slipped off her heels and immersed herself in the soapy water, feeling the clingy wet material of her slip adhering cling to her shapely breasts, hips and thighs.
'Oh, my god, you've caught me!' She exclaimed, realizing I had been spying on her all this time, and a bit shocked that I'd found her soaking in the bath in her lingerie and stockings. 'It's my secret fantasy, to bathe in my nylons and my slip,' she admitted, shyly. 'Do you think I'm weird?'
Tanya quickly realized that I was well into seeing her lying there in the bath getting her silky slip and nylons all wet, and stood up so I could see the layer of dripping satin clinging tightly around her fabulous body.
Encouraging me to get out my cock, she pulled down her slip and began playing with her wet tits and perky nipples. Then she pushed her hands deep into her wet sheer nylon panties and gave her pussy a quick rub.
Getting back into the half-filled bath she laved the soap water over herself. Then she stood up again and pulled her clingy wet nylon knickers over her bum cheeks and down her stockinged legs.
Tanya then played with her wet ass hole and stuck several fingers up her soaking wet snatch as she masturbated to orgasm in the warm wet water.
Get our superb Vintage Flash newsletter each week - all the latest model info, updates, set preview pics and more!