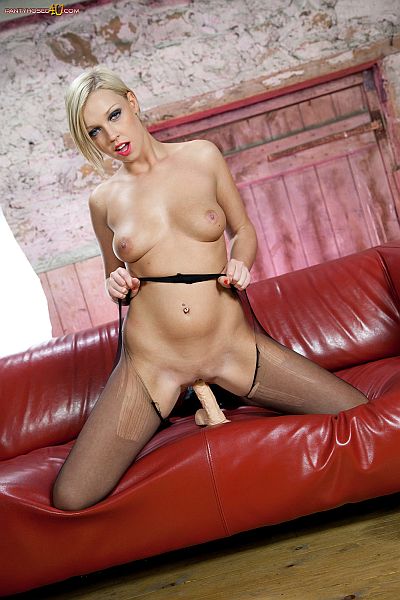 Sexy blonde babe Scarlet shows off her long legs in pantyhose and heels, then strips to masturbate in this video at Pantyhosed 4U.
Scarlet and I had just come back from a party, and feeling horny after a few drinks, she wanted to show me how sexy her ass looked in her slinky black pantyhose.
Scarlet started off by saying how she loved the soft, silky feel of her pantyhose against her legs, and how the cool leather of the couch she was sitting on felt so sexy against her pantyhosed buttocks and thighs.
Taking off her party dress, she stood in before me her heels and hose to give a good look at those fabulous legs and ass in shiny hose.
Then she began to massage her pussy through the crotch of her lovely tights, her fingers rubbing along the sexy seam that run up the front of her sheer black pantyhose.
Slowly, teasingly, Scarlet massaged some lubricant into her pussy through her hose, making it wet and juicy under the film of sheer black nylon mesh.
Then ripping open the gusset of her tights, she released her pink pussy and plunged a realistic fake cock up her hot cunt to reach her orgasm.
See Scarlet Lovatt masturbating in ripped nylon pantyhose in this (154 image) photo set and 15 minute video- 'Red Leather – Black Nylon'.
Get our superb Vintage Flash newsletter each week - all the latest model info, updates, set preview pics and more!