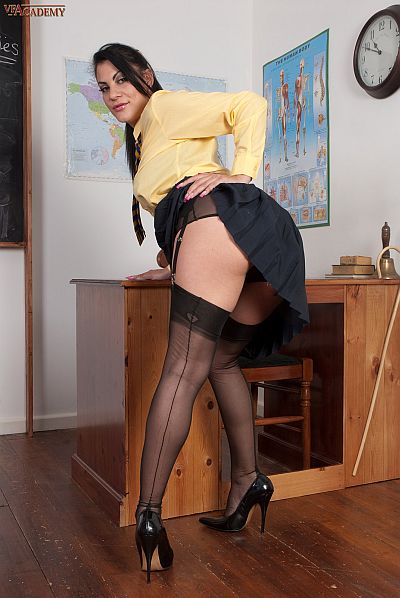 A few of the girls are jealous of Roxy's well developed boobs, and she often gets into squabbles when they tease her about how big they are.
Having been in another fight over her boobs, Roxy was sent to the detention class to calm down.  Which was where she found our randy janitor 'Flash' ready to lend a sympathetic ear, in return for a few favours of course.
As she began to recount that morning's confrontation with flat chested Kiana, Roxy's hands caressed her tits through the tight material of her blouse.
She noticed that our janitor was looking at the tops of her black nylon stockings, which were just visible below the hem of her skirt as she sat on the edge of the desk.
'You like that don't you, looking up all the girls skirts,' Roxy said, hitching her skirt up a little higher, until the wisps of her pubic hair were visible through her sheer nylon panties. 'Is that want you want to see? My nice knickers, so soft and silky.'
Removing her blouse, Roxy cupped her hands under the soft black satin of her bullet bra, before slipping the straps off her shoulder to reveal her all natural boobies. Roxy then played with her lovely titties, one of which is pierced, teasing the soft pink nipples between her fingers to make them harder.
Standing to remove her skirt, Roxy then pulled down her knickers and left them stretched around her ankles. She stroked the soft skinned cheeks of her naked arse, then bending slightly, she ran her hands up and down the back of her seamed stockinged legs.
Climbing back on the teacher's desk, Roxy opened her stockinged legs and massaged the pink lips of her pussy slit and made herself cum.
See Roxy M strip down to her nylon stockings and suspenders to masturbate in this (197 image) photo set and 15 minute video – 'My Boobies In Trouble'.
Get our superb Vintage Flash newsletter each week - all the latest model info, updates, set preview pics and more!