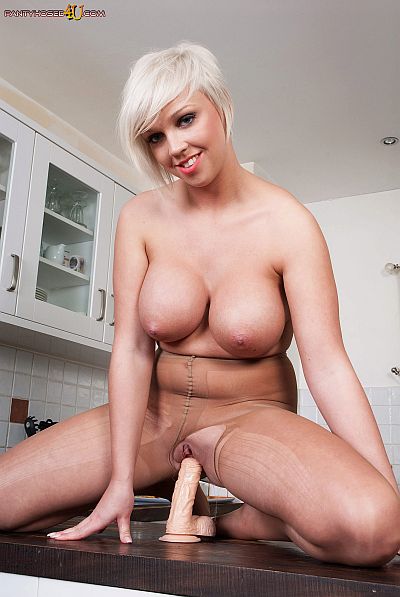 Scarlet was in the kitchen finishing off her housework, when she caught me looking at her shapely legs and up at the crotch of the light tan pantyhose she was wearing.
Knowing just how much I like looking up her dress, she lifted it up and turned around to let me see her delectable pantyhosed ass encased in a layer of sexy nylon.
'I'd love you to run your hands up my sheer nylon tights,' Scarlet said, caressing the surface of the shiny nylon covering her legs and thighs. 'I just love pantyhose and the way they feel, which is why I always wear them with no knickers.'
Scarlet turned to give a frontal view of her naked snatch visible through the sheer nylon crotch, and traced her fingers up the pantyhose seam that ran right between the lips of her vagina to the waist of her hose.
'It's so good rubbing my pussy through these nylons, it gets me so wet,' Scarlet said, as she sat on the kitchen top feeling up her moist pussy behind the tight nylon screen of her hose. She smiled with naughty pleasure as she teased her cunt slit with her fingers through the sheer crotch of her tights, making the thick juices of her pussy soak into the nylon.
Scarlet ripped open her pantyhose to get at her pussy, and needing some cock to give her satisfaction she stuffed her cunt with a realistic cock like dildo and masturbated to orgasm.
Get our superb Vintage Flash newsletter each week - all the latest model info, updates, set preview pics and more!