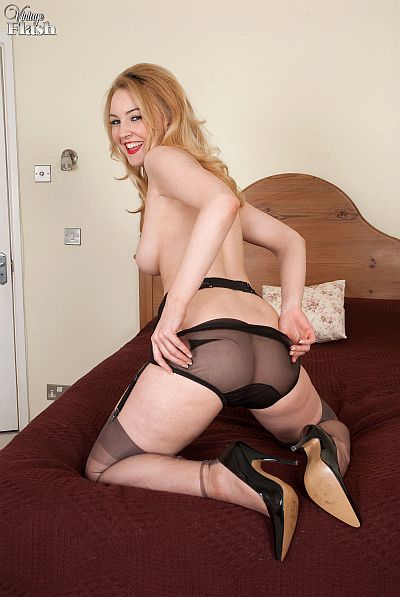 Katie gets aroused while reading an erotic novel and decides to perform a seductive tease in her fully-fashioned nylon stockings, tight pencil skirt and stiletto heels.
'Would I make your cock hard if you saw me like this in the street, walking along in my sexy stiletto heels?' Katie asks, as she sways seductively, running her hands over the curves of her arse and squeezing her tits through her tight black top.
Even the outline of her garterbelt she is wearing can be seen through the front of her pencil skirt, as she stands showing off her shapely figure and feeling her body through her tight fitting clothes.
'I'd like to make your cock ooze with pre-cum and then make you wipe it all the way up the seam of my sexy fully-fashioned nylons,' Katie says, as she traces her finger up the line of the seam running up the back of her stockinged leg.
Katie pulls up her skirt so it is stretched tight around her naked thighs and 'pings' her suspender straps. Then inching her skirt higher, we get a close up view of her trimmed pubic hair showing behind the crotch of her black nylon knickers.
Stripping down to her black underwear, she peels her panties down oh-so-slowly and exposes her gorgeous wet gaping pussy for you to spunk over!
Get our superb Vintage Flash newsletter each week - all the latest model info, updates, set preview pics and more!