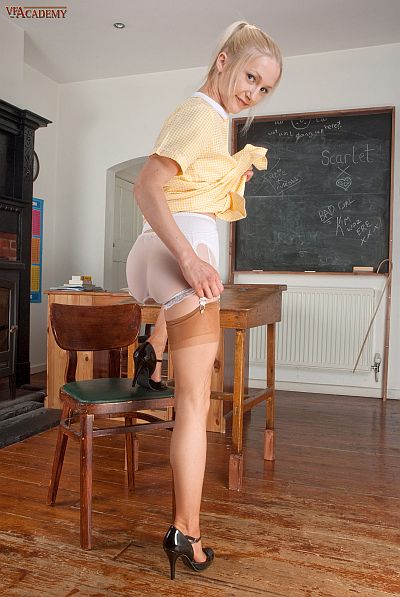 'I was told off for smoking, when all the teachers smoke so why can't I?' Chloe said indignantly, having been caught smoking and sent to the detention room where she met our resident janitor, who as you know, likes to keep and eye on the girls.
Knowing our horny janitor by his reputation with the other girls at the academy, Chloe decides to pass the time by stripping off for him and having a bit of naughty fun.
'I heard you like being naughty with the girls, so I may as well be naughty with you,' she says, sitting on the edge of the desk and unzipping the front of her uniform.
'Do you want to see my knickers?' She asks needlessly, quickly lifting the front of her tunic to reveal she is wearing white sheer nylon panties through which you can see the pink slit of her sweet pussy.
Chloe then stands and bending over she pulls her knickers all the way down to her shiny heels and takes them off. Then facing front, she gives our man a look right up under her dress at her lovely cunt framed by her stocking tops and suspenders.
'Do you want to have a look right up my pussy?' She then asks, leaning over with one leg up on the desk and pulling the lips of her vagina open for our janitor to get a closer inspection.
Climbing back onto the desk she opens her pussy and finger fucks her sopping wet hole glistening with her juices. Chloe then gives an explicit view of her hot cunt while she teases the nub of her erect clitoris and masturbates to an intense orgasm.
Get our superb Vintage Flash newsletter each week - all the latest model info, updates, set preview pics and more!