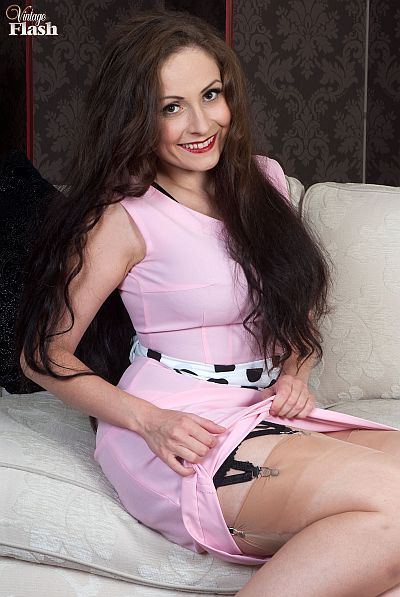 'You know these nylons feel so nice against my skin, I want to feel your hands rub all the way up my legs,' Sophia says, extending the length of her leg and drawing her hand across the surface of her shiny nylon stockings over her shin and knee to the top of her thighs.
'It always make me feel more excited to know your playing with your cock, so I suggest you get that out and start giving it a rub for me,' she remarks, lifting her pink dress at the front to give a tantalizing glimpse of her naked pussy framed between her suspenders and the tops of her sheer nylon stockings.
Sophia unzips her dress and turning she gives her ass a little wiggle as it falls away, to reveal she is wearing a figure hugging black girdle with suspenders firmly attached to the tops of her nylon stockings.
'I'm wearing a nice open bottomed girdle and that way you can see a whole lot more, can't you!' She says, bending over to give a view of the cheeks of her peachy arse while caressing the back of her leg in seamed stockings. 'I love the way it feels around my hips and bum, and follows the curves all the way up my body.'
Sophia removes her bra and fondles her all natural titties, then reclining on the sofa she opens her legs and spreads the lips of her labia in close up, suggesting you should give her clit a good licking.
'I'm definitely getting more turned on now, I just want to fuck and think I might just get you to put your cock up me,' Sophia says, as her hand vigorously rubs the pink, open lips of her juicy cunt. 'Yeah, I need to put your big, hard cock in my tight little pussy!'
Sophia squirms her girdled hips against the sofa as she masturbates with fingers pressed against her cunt, encouraging you to wank your cock and cum with her as she climaxes.
Hook up with Sophia in her quest for sexual pleasure and run your eager hands from her 5″ heels, right up past her gartered stocking tops to her warm wet pussy flange!
Get our superb Vintage Flash newsletter each week - all the latest model info, updates, set preview pics and more!