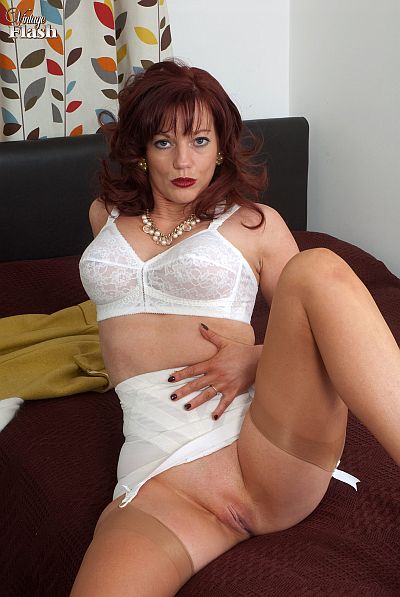 'I love RHTs, they make my legs look so beautiful and glamorous,' Holly says, admiring her legs in natural tan RHT stockings as she sits on the edge of the bed. Reaching down she traces her fingers from her ankles and the back of her calves, up to the top of her thighs where she adjusts a suspender clasp attached to the top of her nylons.
Feeling a little hot in her clothes she unbuttons her mohair cardigan and pulls it open around the tight fitting lacy bullet bra she is wearing, then gives her breasts a quick squeeze by pushing the cups together.
Holly removes her bra and unzips her pencil skirt, easing it over her rear to reveal her hips and ass are encased by a figure hugging, open-bottom girdle with suspenders tugging at the tops of her nylons. Then reclining on the bed she extends her long legs and crossing the ankles she dangles her heels from her stockinged toes before slipping them off.
Holly lays back on the bed to masturbate and opening her stockinged legs she inserts several fingers in her moist quim. Working her fingers in and out of her sticky cunt she gradually builds up her pleasure and frigs herself off to climax.
Get our superb Vintage Flash newsletter each week - all the latest model info, updates, set preview pics and more!