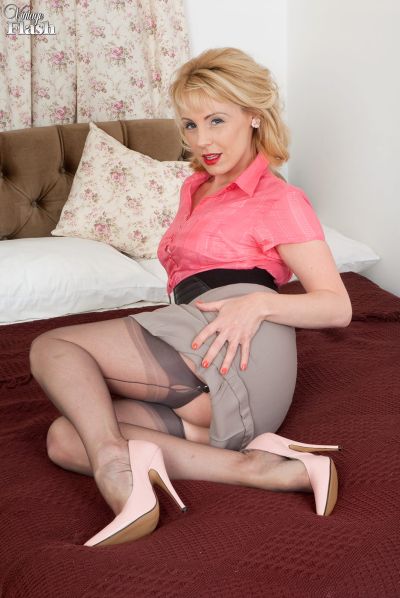 We met up with the delectable Clair Lou last week for her first assignment in front of the camera in over two years. That's right, she's been off the scene for all that time, but she chose to make her comeback with us, here at Vintage Flash.
If anything, Clair Lou is looking even more sexy and charming than before, and our video shows her stripping out of a classy pencil skirt and blouse, right down to her girdle, stockings and heels.
'That's right, you're not seeing things, I'm back!' She said, looking fabulous as she sat on the edge of the bed with her stockinged legs crossed. 'I couldn't keep myself away.'
Having been away for such a while, Clair was ready to put on a provocative striptease for her fans and boy, did she deliver!
She began by lying on the bed and lovingly stroked her stockinged legs with her hands; pushing her fingers down the tops of her nylons, and slowly slipping her pink heels off her feet so she could show them in close up.
'Don't they sound so gorgeously sexy,' she said, rubbing her nyloned feet together and causing the static to crackle as they brushed in unison.
Clair then slowly removed her blouse and skirt in what I can only describe as a delicious striptease, until she was down to her girdle, stockings and vintage bra.
Seductively removing her bra, Clair massaged her tits, then spreading her legs wide she slipped her fingers up her wet cunt and frigged herself off to a reach an intense climax!
'You don't know how much I've missed that', she said breathlessly after she had just orgasmed.
All we can say is, it's great to have you back, Clair Lou.
See Clair Lou striptease down to her girdle and stockings in this (166 image) photo set and watch her masturbating in her video – 'Come Back Come On' at Vintage Flash.
Get our superb Vintage Flash newsletter each week - all the latest model info, updates, set preview pics and more!