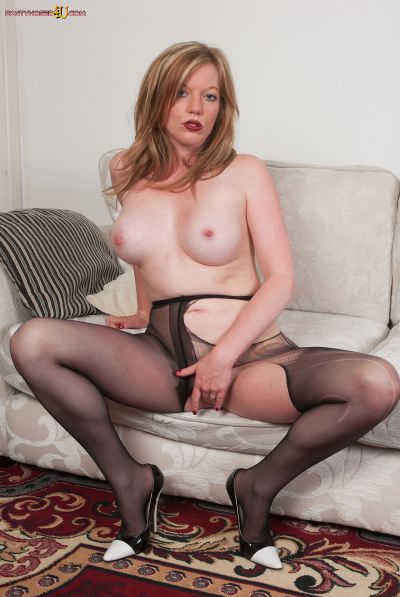 Leggy business lady Holly is trying to get us interested in investing in her pantyhose enterprise, and provocatively displays her long legs in black pantyhose and heels as she outlines her business plan. As she sits on the sofa talking about her love of pantyhose, she opens her legs slightly to give a quick flash up her dress and show she is sans panties under her tights.
'I feel it's important to show what you'll be getting to grips with,' Holly says, standing up to show the sheer quality of her merchandise, then bending over to display her firm buttocks encased in a layer of fine black nylon. 'We need someone with a hands on approach to get a firm grasp of how our company works!'
Holly strips out of her tight dress, pulling it over her head to let her boobs swing free, then sits half naked on the sofa, clad in only her black sheer nylons tights. 'How are you seeing the figures so far, good?'
Relaxing back on the sofa she seductively caresses her slender legs sheathed in sexy nylon, then pushes her hand down the front of her pantyhose to stimulate her pussy. But what's this? A hole in her hose! Holly confides she put it there so she can secretly finger her pussy when she's at her desk.
'When it's the end of the day day, you know what I do with my pantyhose? I like to tear them up!' Holly says, ripping her pantyhose open with her fingernails and causing the delicate nylon to ladder all down her legs.' That's so hot!'
Holly lays back on the sofa and parts her legs, excited by the look and feel of her exposed pussy surrounded by laddered pantyhose. Her fingers rub over the hard nub of her clitoris, and massaging the slit of her hot cunt she wanks herself off to a satisfying climax.
Get our superb Vintage Flash newsletter each week - all the latest model info, updates, set preview pics and more!