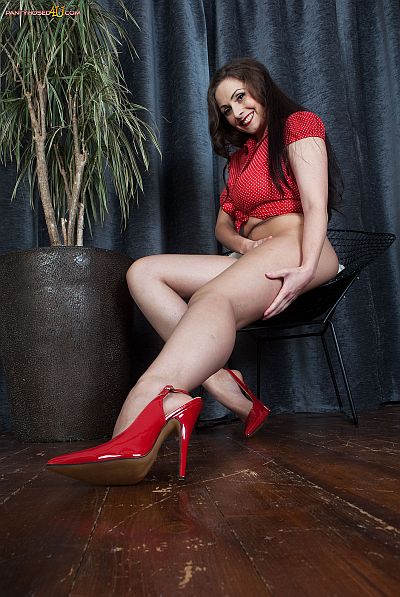 Sophia knows just how much we all enjoy seeing leggy ladies in their sexy sheer pantyhose and spiky high heels, so she parades around in her shiny hose and rips them open to masturbate for your pleasure  in this video at Pantyhosed4u.
Sophia is 5'5″ tall but has superb legs, as you will see when she stands in her heels to let us fully appreciate her fabulous legs in shiny, sheer to waist pantyhose.
Turning around she shows off her lovely derrière encased in a layer of slick nylon, then bends over to run her hand up the back of her legs and over the the silky surface of her nylon tights.
'I love wearing my pantyhose and the way they feel, and I know how much you like them,' Sophia says, slowing caressing her legs up from her tapered ankles to the broader area of her nyloned thighs. 'You like them enough to get your cock out, don't you? Well that's why I've got them on, so you can wank yourself while you look at me.'
Undoing her skimpy top, Sophia lets her gorgeous breasts hang free and scoops them up in her hands to give them a squeeze. Then grasping the waistband of her pantyhose, she stretches them right up and over her titties and teases her nipples with her little finger through the sheer nylon mesh.
'I love the feeling of not wearing any knickers under my pantyhose,' she says, commenting on how tight fitting her pantyhose feel around the mound of her pussy, sheathed in shiny nylon.
Pulling up her pantyhose even tighter, she rubs her fingers over the seam of her hose and presses it against the compressed lips of her cunt, then pushes her hand down the front panel of her tights to massage her clitoris.
Sophia reaches her first orgasm and rips the front of her hose so they ladder in all directions up her body. Then kneeling on the chair she tears the rear of her tights wide open, exposing the flesh of her buttocks which expand through the holes in the ripped nylon seat.
Feeling so horny at the sight of her torn and shredded tights stretched over her body, Sophia wanks her exposed cunt through her ripped pantyhose to orgasm for the second time in sexy, sheer nylon.
Get our superb Vintage Flash newsletter each week - all the latest model info, updates, set preview pics and more!