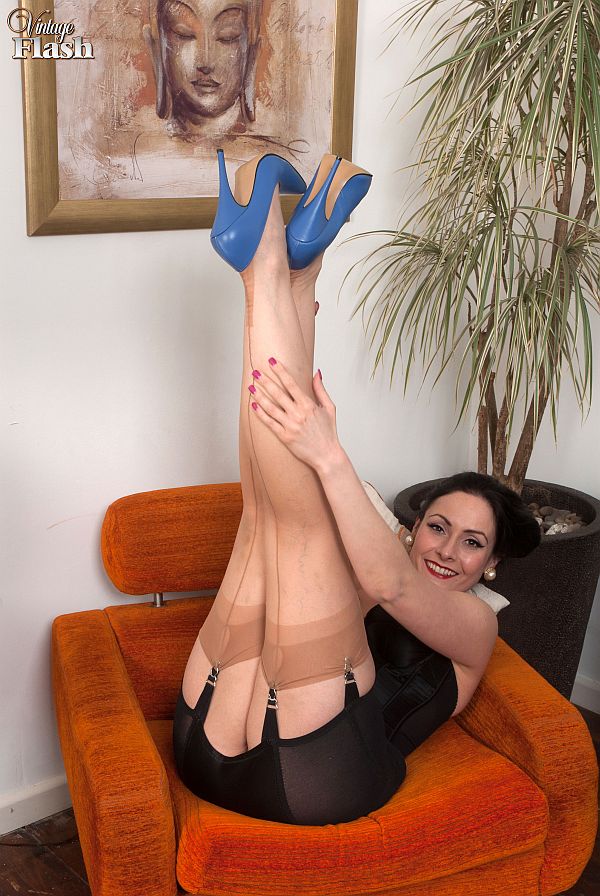 Sophia was glad to be home from her posh job in the West End and relates a story about how her dirty boss tried to grope her up after having bought her a fur coat. She had to fend him off while he drove her back in his car and now she is finally home, all she really wants was to do is give you a sexy show in her girdle, nylon stockings and heels…
'There's nothing I like more than wearing my fully-fashioned vintage nylon stockings for you,' Sophia says, lifting the hem of her dress to give a tantalizing look at the black suspender of her girdle attached to the top of her nylon stockings.
Sophia encourages you to get your cock out and give it a 'cheeky little rub' to get her in the mood, promising she is going to tease you with more views of her detectable self in sexy underwear and nylon stockings.
Lifting her dress she shows you her fabulous arse encased in a roll-on, black satin open bottom girdle, with metal suspender clasps fixed to the welt of her tan seamed nylons. Then she strips off the dress to reveal she is wearing a black satin bustier and invites you to look at her cleavage as she jiggles her boobs.
Stripping off the bra she squeezes the mounds of her large fleshy breasts in her hands, encouraging you to play with your cock as she parts her legs so you can see the pouting lips of her pussy framed by her naked thighs and the tops of her nylon stockings.
'Let you eyes wander all over me whilst you wank your cock, all the way from my shoes, up my legs in my fully-fashioned stockings, then take a look up my girdle,' Sophia suggests, laying back with her legs open and sliding her finger over the slit of her cunt as she invites you to cum over her naked pussy.
Get our superb Vintage Flash newsletter each week - all the latest model info, updates, set preview pics and more!