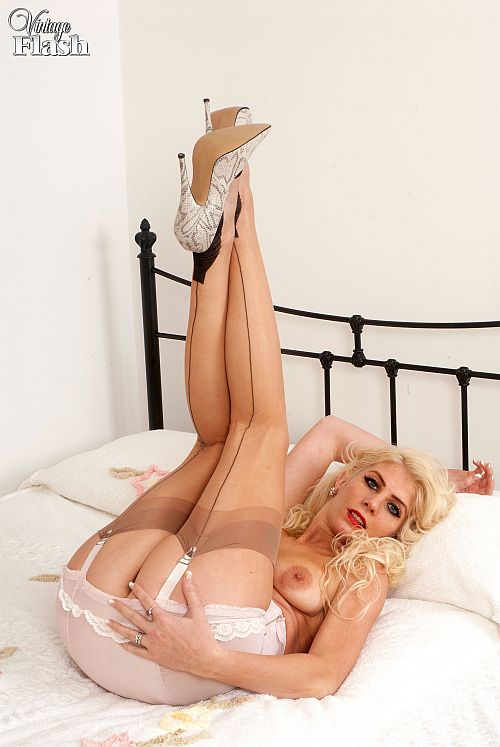 'How do you like my lovely, sexy outfit I'm wearing today?' Bianca asked, looking very seductive as she lay on the bed in her skirt, stockings and heels. 'I'm feeling very horny today and can't wait to show off my sexy vintage stockings, which are genuine blackfoot fully-fashioned nylons.'
Bianca enjoys teasing and shifting over to the side of the bed she opened her legs slightly, saying, 'I'm feeling very naughty today and as you can see I'm not wearing any panties.' With a knowing look in her eyes and a seductive smile on her lips, she parted her legs and pulled her skirt up her thighs to confirm she was indeed sans panties.
Kneeling on the bed she unzipped her skirt and pulled it down to reveal she was wearing a pink vintage girdle, with metal clasped suspenders that stretched down the back of her thighs to the tops of her seamed nylon stockings. 'Look how tight it is against my skin,' she said, moving her hand over her buttocks tightly encased in the close fitting fabric of the girdle stretched around her arse, 'it makes me feel so sexy.'
Standing above me she came up close and seductively ran her fingers over her girdled waist, making sure I could see her right under her girdle, where I caught a glimpse of her hairy cunt nested between her stockinged thighs.
Bianca then lay back on the bed and opened her legs to reveal her hairy minge, slipping off each of her heels in turn and dangling them from her stockinged toes. She then lifted up her feet for a real close up view of the soles and spread her toes inside the foot of her sheer blackfoot stockings.
Turned on by her sexy vintage attire, Bianca spread her legs open and slipped several fingers inside her hairy snatch. Gently moving her hips up and down as she lay on the bed masturbating, she frigged herself off and climaxed in her sexy vintage girdle and nylons.
Get our superb Vintage Flash newsletter each week - all the latest model info, updates, set preview pics and more!