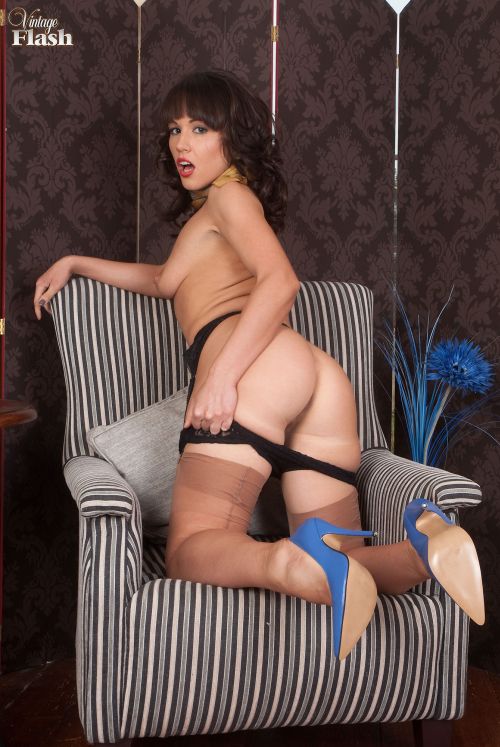 Librarian Lucy had been reading raunchy books at work which made her feel so horny she could hardly wait to get home to masturbate in private. In fact she's feeling so hot she's invited you to masturbate with her as she strips down to her sexy underwear and plays with her pussy.
Sitting in her chair, Lucy teasingly pulls back the hem of her tight pencil skirt and indulges in caressing her shapely legs in silky smooth, tan nylon stockings. She slips her finger between the top of her stockings and the flesh of her thigh, almost touching the sexy black suspender attached to the welt of her nylons.
Standing to pull down her tight skirt, Lucy pushes her hands down the back of her black lacy panties and feels the cheeks of her arse. Then leaning forward she tugs her panties slowly down her stockinged legs until they are stretched around her ankles, before stepping out of them and settling back on the chair.
Lucy lays back and spreads her legs so they are over the armrests, exposing her cunt and ass, then begins to massage her clitoris with circular motions. She slips her fingers inside her moist pussy, moving hips up and down with increasing pleasure as she rubs the lips of her pink gash. Lucy's fingers increase their rhythm as she feels the approach of her orgasm, her breath quickening in intensity as she masturbates to climax.
Get our superb Vintage Flash newsletter each week - all the latest model info, updates, set preview pics and more!