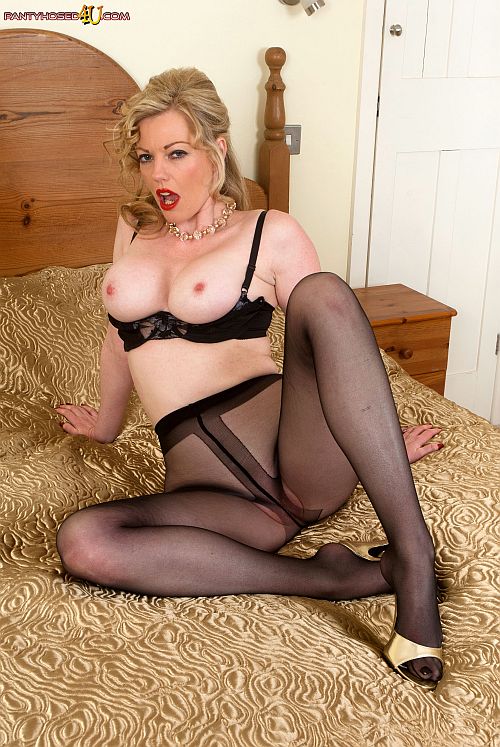 Holly's legs looked very sexy in her new designer pantyhose and gold sling-back heels as she paraded about in the bedroom, leaning over to give a view of her sexy ass and tracing her fingers from her ankles along the zig-zag pattern up the side of her leg to the top of her thigh.
'I love the feel of my pantyhose as I move. It's like a second skin, showing every definition of my curves,' Holly said, as she knelt on the bed and seductively moved her shapely ass, running her hands over the back of her nyloned legs.
Holly slipped her hands inside her sheer bra and scooped out her tits, then stretched her pantyhose right up her waist so the crotch was tight around her cunt and the black seam fitted into the groove of her pussy to form a cameltoe.
'I want you to take your dick and run it right up my pantyhose leg, then put your cock between my thighs and push it against the gusset as I squeeze my thighs shut,' Holly suggested, licking her lips and moving her hand over her pantyhosed pussy.
Laying back she slipped her hand down the front of her sheer nylon hose, pushing her long red fingernails through the delicate fabric so it broke and laddered down her legs. 'There's nothing hornier than sound of ripping and tearing nylon, is there?' She remarked, as her fingers tore into her nylon tights and ripped them to shreds, exposing the fleshy lips of her hot, pink pussy.
'That's it I want your cock, fucking me hard while I'm wearing these torn pantyhose!' She said passionately, inserting several fingers in her moist pussy and vigorously moving them in and out. 'Fuck me deeper and deeper, then pull out and spunk all over my ripped nylon pantyhose!'
Get our superb Vintage Flash newsletter each week - all the latest model info, updates, set preview pics and more!