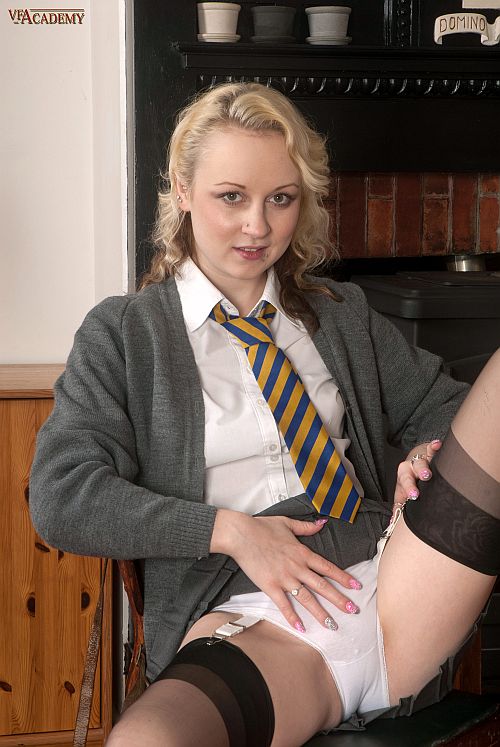 Bored with doing her homework, sexy college babe Kiana decides she would rather show you her panties and play with her pussy, it's so much more fun.
Kiana likes to tease and opening her legs she lifts up her pleated skirt and reveals her stockings tops, suspenders and a view of her white cotton panties. While rubbing her hand over the front of her panties she describes how warm her excited pussy feels through the tight cotton material.
Standing up, Kiana lifts her skirt around her waist and pulls the crotch of her panties up tight around her cunt. She rubs her finger over her cottoned slit, all nicely framed by her vintage garterbelt and the suspenders attached to the tops of her black nylon stockings, then slips her fingers inside her knickers to play with moist cunt.
Stripping out of her uniform, Kiana turns to give a rear view and leans slightly forward as she slowly tugs her panties down her seamed stockinged legs. Then climbing on top of the teacher's desk, she spreads her legs wide and massages the moist pink slit of her hot pussy, thrusting her hips with increasing pleasure as she masturbates to orgasm.
Get our superb Vintage Flash newsletter each week - all the latest model info, updates, set preview pics and more!