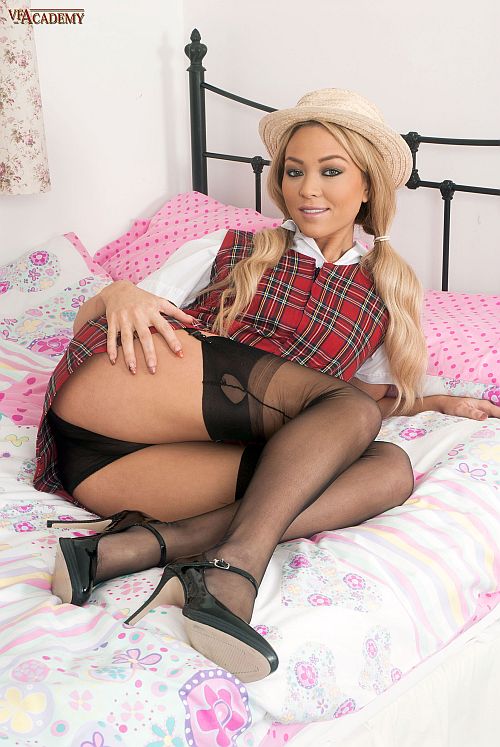 Natalia felt tired after a long hard day at the academy and falling asleep on her bed she found herself dreaming of the handsome new gym teacher, Mr. Mycock. 'This is a dream come true! Mr. Mycock in my bedroom!' Natalia said with astonishment, surprised that her fantasy man was standing in her room at home.
Willing to do anything to please her teacher, she quickly unzipped the front of her plaid dress after he had asked her to remove it. 'Are you going to get naked too?' She asked hopefully, as she enthusiastically stripped out of her uniform and stood in front of him in her black lacy bra, sheer nylon panties, black nylon stockings and garterbelt.
Natalia reclined on the bed, displaying her youthful, tanned body and slender legs in their seamed nylon stockings and heels, then moved her hand over her sexy black knickers and began rubbing her pussy through the crotch. 'What's that, you want me to bend over for you, Sir?' Natalia complied with his wishes, getting into a kneeling position and moving her ass whilst she continued to massage her pussy through the crotch of her sheer nylon panties.
Natalia continued to masturbate in front of her teacher, encouraging him to play with his cock while she played with her pussy. Then she stood up to pull her knickers down her sexy legs in their seamed nylon stockings and offered them to Mr. Mycock as a special gift. Her pussy now fully exposed, she sat on the edge of the bed and opened her stockinged legs, pulling the lips of her naked cunt wide apart so he could see her juices glistening inside her moist fuck hole.
'Oh Sir! Make me cum, Sir!' Natalia said, grinding her hips in a circular motion as she vigorously rubbed her clitoris and wet slit with one hand. 'Come on stick that nice big cock inside me! I won't tell anyone! Just fuck me!'
Get our superb Vintage Flash newsletter each week - all the latest model info, updates, set preview pics and more!