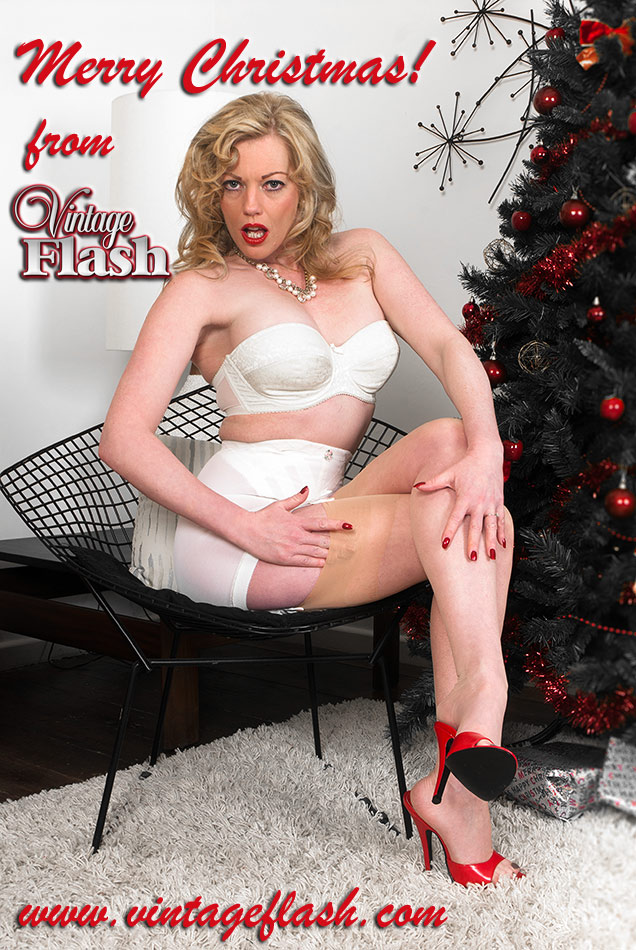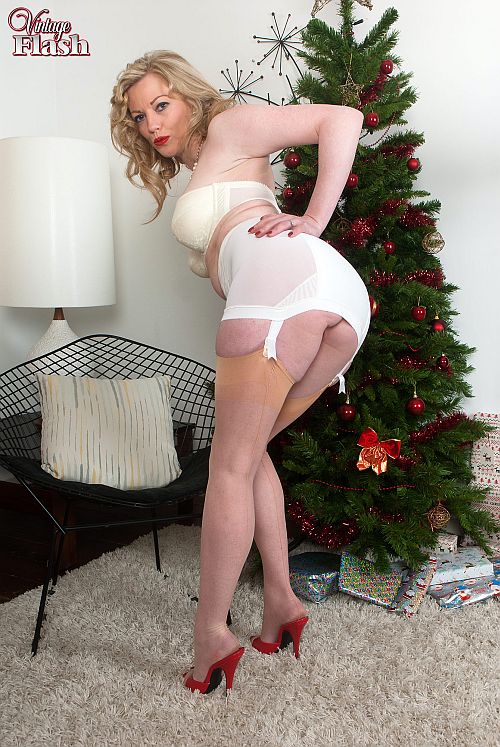 'I'm always immaculately dressed, from the top to the bottom and certainly underneath,' Holly said, rather like the Xmas tree she had just finished decorating that afternoon. Feeling pleased with her handiwork, she sat down beside by the tree and relaxed in a chair with her hands folded over her knees.
'Now I know you can't really see them, but I'm wearing some very sheer skin-tone nylon stockings,' she said, drawing attention to her legs with light touches of her finger tips brushing over the surface of her nylons. 'Such a nice fit, they give my legs that little bit of a shine.'
Holly teased out of her dress to reveal she was wearing a magnolia, satin, strapless bra that uplifted the mounds of her firm breasts. Then she lowered the dress slowly over the cheeks of her ass encased in a tight fitting, open-bottom girdle and let it fall to the floor.  Stepping out of the the dress, her fingers touched the taut suspenders of her girdle which pulled on the tops of her nylon stockings.
Sitting back in the chair with her legs slightly parted, Holly's girdle didn't leave much to the imagination as she caressed her shiny stockinged legs, from her sexy red leather mules, up her ankles to the suspenders stretching over the bare flesh of her thighs.
Feeling naughty and in the mood for some festive fun, Holly decided to open one of her presents from under the tree and discovered that it was a pink vibrator. 'Every girl should have one in her stocking,' Holly said, slipping the object between her thigh and the top of her nylon stockings to keep it in place. 'It does make a good stocking filler!'
Reclining in the chair, Holly sat with her legs apart and slipped the vibrator inside her tight, wet pussy, then masturbated in her girdle and nylons and pleasured herself to a satisfying climax.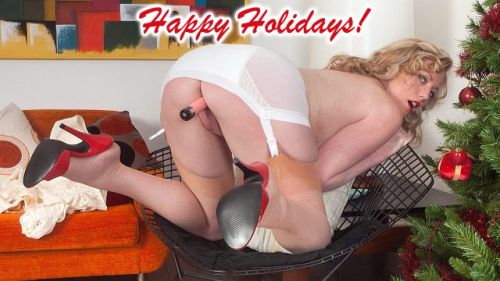 Get our superb Vintage Flash newsletter each week - all the latest model info, updates, set preview pics and more!