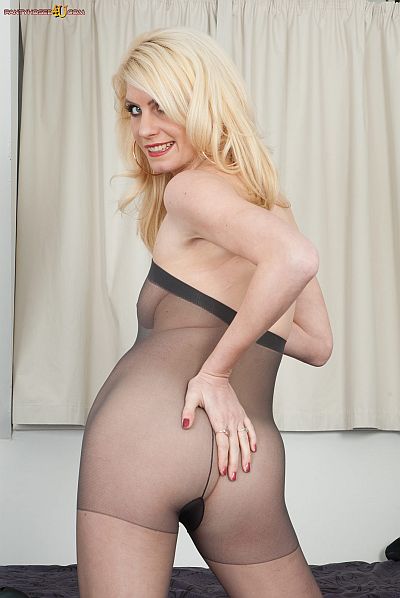 Blonde housewife Bianca is a self confessed 'little slut', who just loves to turn guys on in the bedroom while she is wearing her sheer nylon pantyhose.
If Bianca offers to take you back to her place, you can be assured of a super hot pantyhose show, as I you will see in this video I shot of her a few weeks ago.
"I'd bet you'd just like to lick my nyloned pussy through these, wouldn't you?" she said, as I watched her lying on the bed with legs apart, rubbing her cunt through her sheer nylon pantyhose.
Bianca's hands caressed her legs and ass encased in soft sheer nylon, then played with her juicy wet nyloned slit, fingering it whilst she invited me to lick her cunt through the nylon screen of her pantyhose gusset.
"Why don't you get your cock out and get it nice and hard so you can rip these off and start fucking me," said Bianca, slipping her hand down the front of her tights and masturbating with her fingers stuck her up her hot snatch.
"I'm such a dirty bitch," she confessed, looking at me with intense lust in her eyes, her fingers making sticky sounds as she stirred up the cream in her cunt hole.  'Such a dirty little slut, I can't wait to rip these off!"
Fully aroused, Bianca dug her fingernails into the fabric of her pantyhose and ripped them open, tearing at the gusset and shredding the material until it ran in ladders up her long and slender legs.
"I just love that ripping sound it really turns me on!" she said, tearing into her pantyhose with lustful abandon.
Thrilled by the sight of her ripped hose, Bianca then stuffed a vibro deep into her gaping cunt and fucked herself with it, bucking her hips and ass on the bed as she reached her pantyhose climax.
See Bianca masturbating in her sheer nylon pantyhose in (164 image) photo set and video 'Pantyhosed Blonde Plaything'.
Get our superb Vintage Flash newsletter each week - all the latest model info, updates, set preview pics and more!