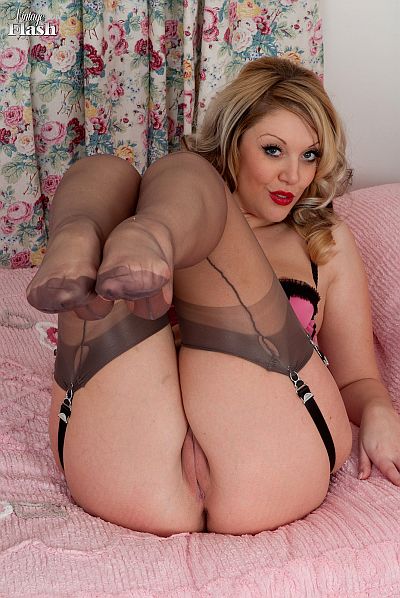 Looking fabulous in her tight pink pencil skirt, coffee coloured, seamed nylon stockings and pink heels, Shay is in the mood for putting on a super hot leg show tonight!
Pleased that we have come to check out her sexy outfit, Shay stands and turns to show off the fullness of her ass in that tight pink skirt she is wearing.
'I've got some very sexy underwear on underneath all this,' she whispers seductively as she bends and moves her hands up the backseam of her stockings. 'I'm just dying to show you, but I'm going to take it nice and slowly'.
Sitting on the edge of the bed, Shay pulls up the tight hem of her skirt and reveals tantalizing glimpses of her stocking tops; her fingers circling playfully over the metal clasps of her suspenders attached to the dark nylon welt.
Undoing her figure hugging blouse, Shay uncovers her pink satin half cup bra which barely covers her brown nipples and presses her tits together with both hands.
Shay reveals she is wearing black satin panties having slipped out of her skirt, and leaning forward with her legs apart, she sways her ass and suspendered thighs in a very lascivious manner.
Then standing with her legs pressed together, Shay slowly pulls her panties down her seamed stocking legs and gets on the bed to show you even more…
Wearing and a sheer garter belt with multi-strap suspenders attached like webbing to the tops of her nylons, Shay gets into a variety of positions to show you everything as she masturbates to reach an explosive orgasmic climax.
See Shay Hendrix striptease in this (153 image) photo set and masturbate in her seamed nylon stockings in her video – 'Hello Sexy' at Vintage Flash.
Get our superb Vintage Flash newsletter each week - all the latest model info, updates, set preview pics and more!