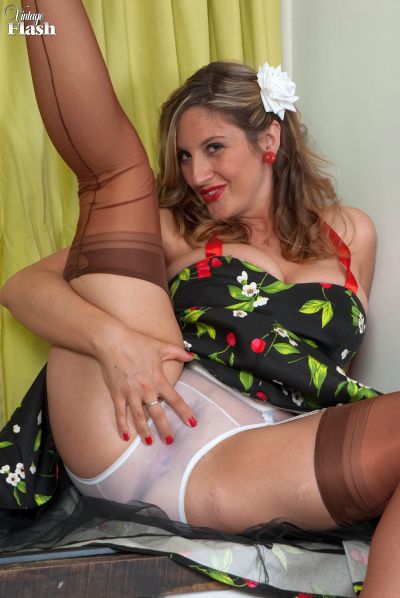 Getting ready for guests to arrive for her house-party, Jenny was having a final clear up in the kitchen to make everything spick and span.
'I wore what you told me to wear', she said, her full floral dress swishing as she turned to show me she was wearing seamed nylon stockings and strappy high heels. 'Makes me feel quite horny cleaning in an outfit like this, especially if I'm being watched!'
She continued her cleaning, wiping down the the surfaces with her hands in rubber gloves, bending a little so the hem of her dress lifted and I could see her naughty stockings tops.
Jenny teased me with further tantalizing views of her stockings, suspenders and panties as she finished her chores. Then, noticing how excited I was from watching her, she lifted her dress to give me a better look at her suspender belt and shapely ass encased in sheer white nylon panties.
Bending forward so she could give me a better view, Jenny ran her rubber gloved hand up the back-seam of her stockinged legs, right from the ankle to the tops of her sexy nylons.
'Imagine what I could do with these gloves,' said Jenny, now standing and suggestively flexing her latexed fingers.
'I could take my glove and wrap it around your cock, and then pull it like that,' she said, moving her gloved hand as if wanking a big dick held tightly in her firm grasp.
Jenny was getting excited by all her sexy talk, so she stripped off her dress until she was down to her panties, garter belt and coffee full-fashion nylons.
Standing in her stockings and heels with her back resting against the kitchen sink, Jenny rubbed her pussy slit through the fabric front of her nylon panties. Then she made a teasing show of pulling her nylon knickers over the cheeks of her fully-rounded ass, and back up again.
After teasing me for some time, she finally tugged her panties all the way down her seamed stocking legs and climbed up onto the kitchen counter.
With her nylon legs spread wide open, I watched as our busty brunette masturbated with fingers deep inside her hot pink pussy.
'Oh, I love wanking in these glamorous stockings, they make me feel so horny', she said, as she massaged the lips of her gaping cunt and brought herself to a satisfying climax.
See Jenny Badeau masturbating in her seamed nylon stockings in this (172 image) photo set and video – 'Rubber Gloves and Nylon Stockings' at Vintage Flash..
Get our superb Vintage Flash newsletter each week - all the latest model info, updates, set preview pics and more!