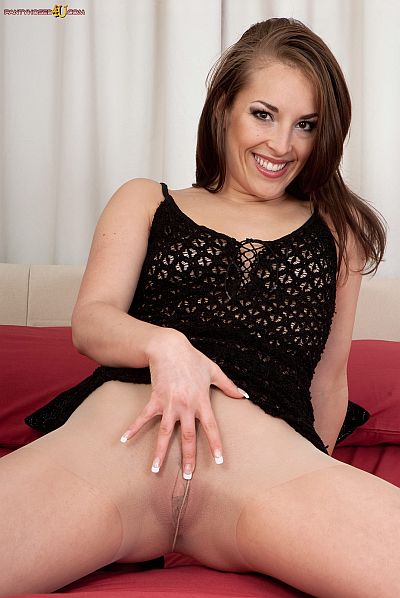 Jessica was feeling horny and got dressed up in a very short black dress, some sheer nylon nude pantyhose and black heels.
'I got dressed up for you, do you like what I'm wearing,' she asked, posing provocatively on the bed in her short dress, letting me see right up it and view her pussy slit through the sheer mesh of her sexy nylon hose.
'Are you feeling horny too, let's have some fun', she said, as her hands caressed her inner thighs, drawing attention to her hot snatch encased behind the nylon screen of her pantyhose.
'These pantyhose make me feel very, very sexy', she continued, pushing her hips forward so I could see the pink flush of her pussy through the sheer nylon mesh of her tights.
Jessica then slipped her hands down the front of her stretchy hose, where they moved under the tight material as she grabbed her arse and fingered her cunt.
When she could no longer stand her finger teasing, she dug her fingernails into the crotch of her tights and ripped them apart so the soft lips of her pussy were exposed.
Spreading her cunt open wide so I could see her pink sex, Jessica slipped her fingers deep into her wet snatch, making sticky sounds as she diddled her creamy fuck hole.
Jessica finished off by sliding a huge 12 inch vibrator up her cock hungry cunt, pushing it hard and deep inside her snatch to reach an intensely explosive pantyhose climax.
Watch Jessica Pressley masturbating in nude pantyhose in this (180 image) photo set and 18 minute movie 'Naughty In Nude Hose' at Pantyhosed 4U.
Get our superb Vintage Flash newsletter each week - all the latest model info, updates, set preview pics and more!