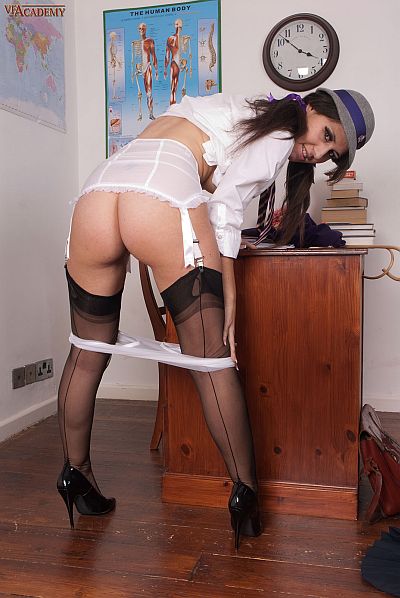 Jess has been put in detention for flashing her tits at the guys, but being told to be on her best behavior has exactly the opposite effect on this horny minx.
Really riled at being punished, Jess is in defiant mood and decides she is just going to be a very naughty girl and 'get it all out!'
'Do you want to see some legs, first, or maybe some stocking tops,' she asks, lifting her skirt and showing off her nylon pantied ass and suspenders.
'I'll show those teachers,' she says, excitedly stripping off her skirt until she is just standing in her stockings, suspenders and heels.
'What do you think about this then?' Say Jess defiantly, pulling up her panties and brazenly showing off her pussy, which is clear visible through the sheer nylon material.
'Ooh, I'm get wet down there,' she says, as she massages the slit of her moist pussy through the front of her naughty nylon knickers.
Getting onto the teachers desk to masturbate, Jess rubs the lips of her naked cunt and licks her juice off her sticky fingers. Then kneeling on the desk with her seamed stockings and naked ass in full view, Jess applies a vibrator to her clitoris and slides her fingers up her pink pussy slit.
Jess gives her pussy a lot of attention, then laying back with her stockinged legs wide open, she works the buzzing vibrator over her hot clitoris to give herself a shuddering orgasm.
Watch Jess West masturbating in her nylon stockings in this (145 image) photo set and video 'Get It All Out' at VF Academy.
Get our superb Vintage Flash newsletter each week - all the latest model info, updates, set preview pics and more!