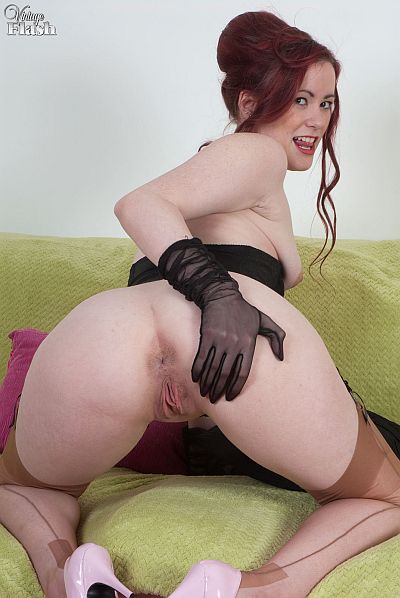 Vicki had been to her aunt's garden party this afternoon, but her see-through dress had caused a bit of a stir with some of the guests.
Though she was dressed rather appropriately for the warm weather in her summer frock, when she stood in the sunlight it was possible to see what she was wearing underneath, including her suspenders and nylon stockings.
'I like being a lady when I'm out and about, but then I like being a dirty little bitch when I'm at home,' said Vicki, relieved be back in familiar surrounding where she was free to be usual naughty herself.
Slipping out of her floral dress, Vicki revealed she was wearing a super sexy black corset, which was pulled tight at the waist to give her figure a lovely hour-glass shape.
Drawing attention to her full-cut black panties, Vicki rubbed her pussy through the soft material of the crotch with her gloved hand. Then she slipped her panties down the length of her seamed nyloned legs, and gave them a sniff before discarding them to one side.
'I want you to run your tongue all the way up my legs,' said Vicki, slowly tracing her gloved hands all the way up her stockings. 'I want you to follow that seam, right up the back of my leg, then get your head right in my pussy so I can wrap my nyloned thighs around it and force you to lick me!'
Vicki began rubbing her clitoris with her nylon gloved fingers, then spreading her seamed stockinged legs wide, she inserted a vibro up her cock hungry pussy.
'Yeah, I want to feel your dick inside of me, right in there,' she said, bouncing her ass and fucking the vibro up her cunt. 'I want to feel your balls slapping up against my arse as you fuck me!'
On her back with her seamed stockinged legs and heels in the air, Vicki plunged her dirty sex toy up her moist fuck hole, and squealed with pleasure as she climaxed over and over.
See Vicki Peach masturbating in her nylons in this (160 image) photo set and video – 'Lady Or Not Lady' at Vintage Flash.
Get our superb Vintage Flash newsletter each week - all the latest model info, updates, set preview pics and more!