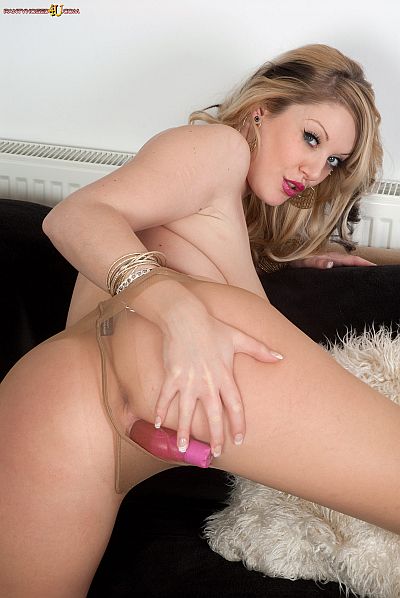 Shay entered the room looking cool and classy in her turquoise blue mini dress, sheer designer hose and elegant high heels. She sat down on the couch and stroked her hands over her  lovely pantyhosed legs as she talked.
'I'm wearing no panties and I've been horny all day, feeling them rubbing against my pussy,' she stated, in regard to the sheer light tan pantyhose she was wearing.
'I hope you're not peeking up my dress, that's naughty,' she chided, even though she'd just teased me by opening her legs slightly so I could see under it.
Shay was in a playful mood, but determined to tease and tantalize me first, pulling back the hem of her dress and caressing her nyloned thighs and ass, just giving me glimpses of her pussy through the sheer gusset of her pantyhose.
'Not only am I wearing no knickers, I'm not wearing a bra either,' she confessed, grabbing her breasts through the material of her dress and juggling them slightly. 'These big juicy tits have been bouncing around all day, the nipples are hard and erect with excitement.'
Shay's sensual pantyhose seduction continued with her standing over me and rubbing the gusset of her pantyhose crotch with one hand. The sheer nylon hose clung to her legs and pussy like a second skin as she stood and massaged her pussy through the cotton patch of her pantyhose gusset.
'Keep working that cock for me, sugar,' she encouraged, as she applied a vibrator to her pussy through the outside her pantyhose. Then hooking the waistband of her hose with her thumb, Shay lifted the clingy nylon and slipped the vibro down the front so she could stimulate her clitoris.
Slipping the jelly vibro right up her hot pussy, Shay allowed the tight nylon screen of her hose to hold it snuggly inside. Then grabbing the vibro through the sheer nylon mesh of her tights, she masturbated to an intensely pleasurable pantyhose climax.
See Shay Hendrix masturbating to orgasm in her (148 image) pantyhose photo set and video – 'Horny All Day' at Pantyhosed 4U.
Get our superb Vintage Flash newsletter each week - all the latest model info, updates, set preview pics and more!