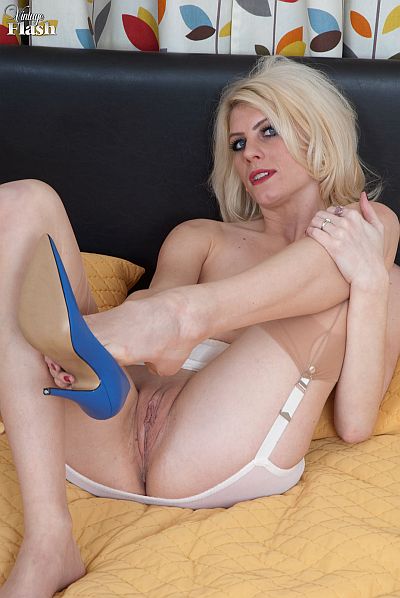 Essex Housewife Bianca loves wearing stockings and suspenders, and wanted to appear on Vintage Flash so she could get down and dirty for all of us guys to enjoy.
She arrived wearing a vintage looking knitted skirt which had a sexy split up one side, tan nylons and blue high heels.
'As you can see my skirt is very naughty,' Said Bianca, moving her leg so the top of her stockinged thigh and suspender strap was showing through the 'V' split. 'Sometimes I let people get a little glimpse as I walk by, as I do like the attention.'
Laying on the bed, Bianca's hand caressed the back of her stockings of one outstretched leg. 'These stockings make me feel so horny,' she said, running her hand up the back seam to the suspender clasp attached to her stocking top. 'I bet you'd just love to run your fingers across these.'
Lifting her skirt Bianca revealed she was wearing a deep garterbelt, and I could see the cheeks of her arse through the almost sheer material which stretched tightly around her bottom.
Stripping off her top, vintage bullet bra and skirt, Bianca opened her stockinged legs and spread her juicy cunt lips for some close up views as she played with herself.
The glass dildo she inserted up her pussy made sticky wet sounds as she masturbated, making her utter sounds of pleasure as she climaxed with it deep in her gaping cunt.
See Bianca masturbating in her nylon stockings and deep suspender belt in this (166 image) photo set and video – 'Dirty Blonde Distraction' at Vintage Flash.
Get our superb Vintage Flash newsletter each week - all the latest model info, updates, set preview pics and more!