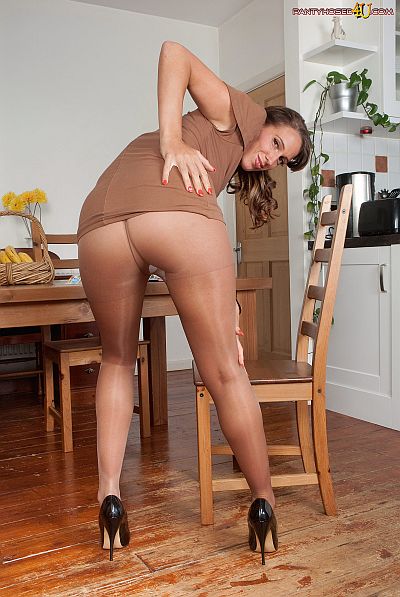 Tammy was sitting in the kitchen reading a magazine about men's sexual fantasies. She was particularly drawn to one guy's fetish for ejaculating his load over women's pantyhosed asses. Turned on by the idea of having her tights blasted with cum, she suggested that I get out my cock and wank it while she teased me in her shiny nylon pantyhose and heels.
Tammy then stood before me and lifted the hem of her tight fitting dress, just high enough to show me she wasn't wearing any panties under her pantyhose. I could see the fleshy lips of her pussy behind the sheer nylon crotch and she pulled the hose up tight against her quim to let me get a better look.
On turning around to let me look at her ass encased in nylon, she gave her butt a hard slap with the palm of her hand. 'See how shiny they are,' she said, leaning over and drawing her fingers up from her ankle to the top of her pantyhose thigh, 'they make me feel so, so sexy.'
Sitting on the edge of the table, she opened her legs and slipped her hand down the front of her tight, glossy pantyhose; the pink lips of her labia glistening as she spread them apart with two fingers. She then stripped out of her dress and lay back on the table and continued to masturbate with her hands massaging her clit and cunt behind the tight, nylon screen of her pantyhose crotch.
'Oh, it's warm ,wet and juicy,' she said, as I watched her rubbing her hot pussy under the stretchy, sheer nylon, 'that's it, get in close while I play with my tight pussy.'
Tammy stood over me and pulled her pantyhose crotch tight against the gaping lips of her moist cunt, moving her hips in front of my face as her fingers rubbed the front of her pantyhose. Then climbing back onto the table she knelt to give me a rear view of her nyloned pussy and ass as she fingered herself to an intense climax in her sexy pantyhose.
Get our superb Vintage Flash newsletter each week - all the latest model info, updates, set preview pics and more!