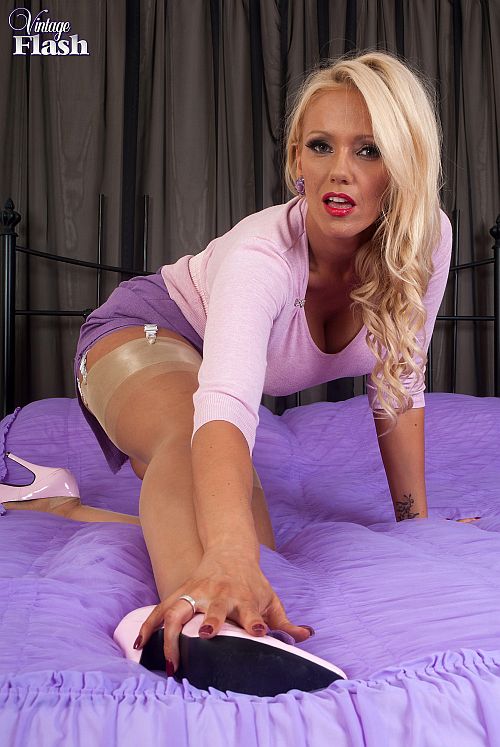 Lucy Zara had been shopping for some sexy new things, including a new sweater and a tight fitting pencil skirt all nicely colour coordinated, plus some silky nylon stockings and some sexy heels to complete her outfit.
'Hmm, I love tight things,' Lucy said, cupping her hands around her breasts through the tight fitting lambs wool sweater that clung to the outline of her huge tits, making them look even bigger than usual. 'It feels so good to be dressed up, nice and sexy for you,' she added, seductively leaning forward to give a view of her cleavage inside her sweater and moving her hand up her stockinged leg. 'Nothing better than feeling sexy, do you agree?'
Lucy knelt on the bed and her skirt lifted a little higher and stretched around her thighs to give a view of her panties, suspenders and the tops of her nylon stockings. 'Look how shiny they are, my panties and the tops of my nylons,' she said, playfully slipping her fingers between the tops of her stockings and the soft flesh of her upper thighs.
Standing by the bed she lifted off her sweater to show she was wearing a white bullet bra which fitted tightly around the sumptuous flesh of her huge norks! Then she slipped off her skirt to reveal the matching white satin, full cut panties and multi-strap suspender belt, both of which brilliantly contrasted against her gorgeous tanned body.
'You love it when I tease, don't you? I know what I can do to tease you even more,' Lucy said, hooking her thumbs into the waistband of her panties and tugging them down over her smooth, tanned buttocks, leaving them stretched around her thighs. Then laying back on the bed she pulled her panties down her legs in their silky, shiny stockings and rubbed them over her bare naked cunt.
Lucy removed her bra to free her firm, round titties with their hard erect nipples, then spreading her legs she rubbed her hot cunt and made herself orgasm not once, but twice, as she masturbated in her sexy stockings and suspenders.
Get our superb Vintage Flash newsletter each week - all the latest model info, updates, set preview pics and more!