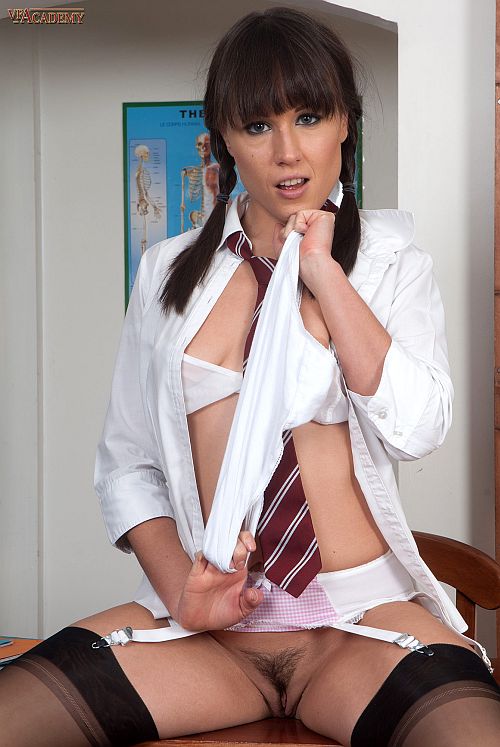 Lucy went around telling everyone that the janitor has a big cock and when the teachers got to hear about her salacious rumor she was immediately put in detention and given one hundred lines. Learning that Lucy was on her own, the janitor's assistant went to keep her company in the hope of getting a bit of action with the saucy girl. Lucy was up for some teasing fun sure enough, but she wanted to see him take out his cock and show it to her first.
'Not as big as the janitor's cock, is it, but let's see how big you can make it, give it a rub for me,' Lucy insisted, lifting up her pleated skirt to show him her white cotton panties, stockings and suspenders to give him something to wank over. Rubbing her hand over the crotch of her white panties, she added, ' Maybe I'll show you what's underneath as well, but only if you make your cock harder for me.'
Climbing on the teacher's desk she unbuttoned her crisp white shirt and pulled down the cups of her tight bra to play with the thick, erect nipples of her breasts. Then standing to lean over the desk, she lifted her skirt to give a rear view of her pantied ass and the long white suspenders that stretched down and pulled on the tops of her black nylon stockings.
Lucy stripped out of her skirt, letting it fall to the floor to pool around her patent leather heels. Then stepping out of her skirt she bent over and slowly teased her white cotton knickers over her ass and pulled them down her seamed stockinged legs.
Getting on top of the desk once more, she opened her legs and slipped several fingers inside her wet, sticky fuck hole and frigged herself off, gasping with increasing pleasure as she built up to her orgasm.
Get our superb Vintage Flash newsletter each week - all the latest model info, updates, set preview pics and more!