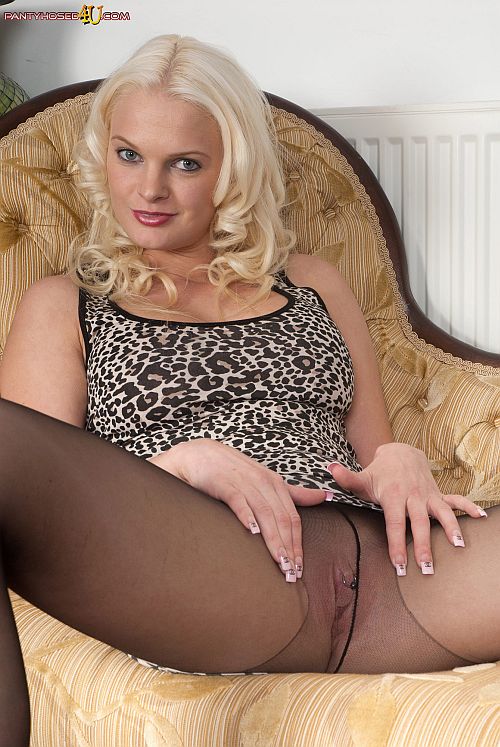 Luscious blonde Kelly is not one for shyness and loves to tease in her sexy pantyhose, showing off her legs and ass and then ripping them open and exposing her pussy to mastubate to orgasm.
'I feel so sexy when I'm wearing pantyhose. I can feel them against my skin and they make my legs look so long and sexy.' Kelly said, as she sat on the chaise lounge and drew her hands up her legs from her sling-back heels to the tops of her thighs.
'If I'm going to be doing a show for you, I want you to do something for me,' she continued, opening her legs and running her hand over her pink, moist pussy and the clitoris piercing which was clearly visible though the sheer nylon crotch. 'I want to see you wank your big cock while I'm fucking myself and see you cum when I cum.'
Kelly stood up and turned around, bending over slightly to feel up her legs in their shiny pantyhose which reflected bands of light running up their length. Removing her dress she gave a close up view of her sexy nyloned butt and pushed her hand down the rear of her pantyhose to massage the juicy, wet lips of her teenage cunt.
Laying back on the chaise lounge she slipped her hands down the front of her tights and felt both of her thighs, then pulled her pantyhose up against her pussy and rubbed her fingers over her cunt and butthole through the tight nylon screen.
Kelly then tore open the crotch of her pantyhose with her fingernails, shredding the nylon and causing it to ladder up her thighs as she widened the hole to get at her hot snatch. She pushed her thighs back and exposed her gaping pussy and the puckered ring of her anus, then slipped several fingers into her sopping wet cunt to masturbate.
She flung her legs wider and her naked pussy looked incredibly sexy while framed by her ripped pantyhose, and pushing three fingers into her gaping wet hole she frigged herself off to an intense orgasm.
Get our superb Vintage Flash newsletter each week - all the latest model info, updates, set preview pics and more!