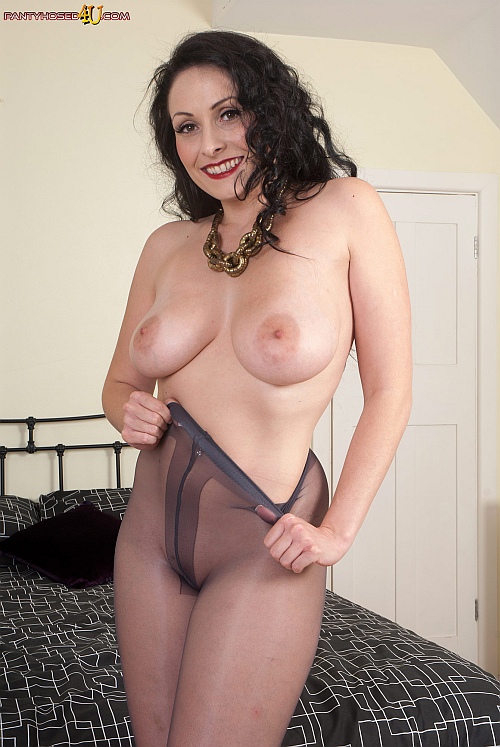 'I love the feeling of my sexy pantyhose, just here alone with not a lot to do except play with myself,' Sophia said, as she lay on the bed and stroked her shapely legs in their layer of sheer black pantyhose.  Describing the sexy sensation of her shiny pantyhose that encased her legs in detail, she  pinched the delicate nylon between her finger and thumb she let it snap back against her thigh.
'They feel so good on my legs, all the way down to my patent leather stilettos,' she remarked, crossing her legs and rubbing them together to make them whisper with the sound of nylon brushing against nylon. 'And I love the gusset,' Sophia continued, circling her fingers over the opaque patch in the crotch of her tights. 'It's just that little bit, hiding away the naughtiest part.'
Sophia stood and turned around to give views of her ass and legs clad in shiny nylon which reflected bands of light as she swayed on her stiletto heels. Then pulling her large breasts out of the loose fitting top of her dress, she sat down on the bed with one leg close to her chest and rubbed her erect nipples against the nylon of her pantyhosed knees.
Removing the dress altogether, she stretched her hose all the way up her front and pulled the nylon screen over both of her boobs. Sophia then teased the nipples through the nylon and pulling the hose up tighter she rubbed her finger in the groove of her pantyhosed pussy.
Sophia grabbed her vibrator and circled the tip of it over the gusset of her pantyhose which was showing signs of her pussy being damp behind the opaque patch. Then kneeling with her ass in full view she tore open the rear of her pantyhose and the flesh of her buttocks popped through the broken and laddered hose. Pulling the crotch of her hose to one side, Sophia then slipped the vibrator between the flesh lips of her sopping wet cunt and fucked herself with it to orgasm
Get our superb Vintage Flash newsletter each week - all the latest model info, updates, set preview pics and more!