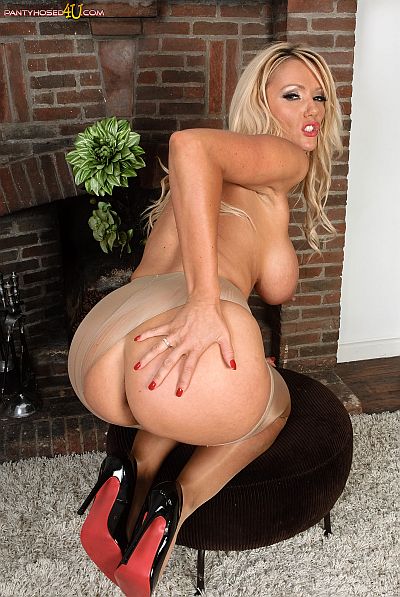 'Why don't you come and take a closer look and get your cock out too!' Lucy said temptingly, as she drew attention to the extremely shiny pantyhose she was wearing. 'I want to see how hard I can make it!'
Lucy was standing in the living room wearing a very short black lace dress under which I could see her exposed her thighs and buttocks encased in the sheerest, glossy nylon pantyhose. Long bands of light reflected over the surface of her silky, shiny tights which shimmered up her legs as she leaned over and sensuously moved her hands over their entire length.
'I suggest you rub your cock right over them, see how soft and silky they really are,' she said, tracing her fingers up the back of her leg which was extended outwards to one side. 'I don't mind. I love being your naughty pantyhose girl; the one that's wearing them just for you.'
Lucy opened her legs while sitting on a low stool, and I could see the compressed lips her naked pussy trapped behind the tight, sheer nylon that encased her crotch. She opened her legs wider, drawing her fingers up her inner thighs and then letting her hands descend between her crotch to feel her cunt though the sexy, sheer nylon.
Turning around she knelt and presented me with her lovely round arse, sheathed in glossy nylon, and moved it up and down it in a very erotic manner. 'Come on, get right in and taste my pussy,' she suggested, 'I bet that really turns you on as you get right in close, sniffing my cunt through my pantyhosed crotch.' I moved in closer and watched as she stretched her pantyhose upwards until they were pulled tight around her cunt and formed a cameltoe.
Lucy continued to teased me with views of her nyloned ass and cunt, then suddenly ripped open seat of her tights and exposed the fleshy globes of her buttocks through the expanding hole in the rear. She then sprawled out on the floor, and slipping her hand between her thighs she fingered the lips of her juicy cunt and masturbated to climax in her ripped pantyhose.
Get our superb Vintage Flash newsletter each week - all the latest model info, updates, set preview pics and more!