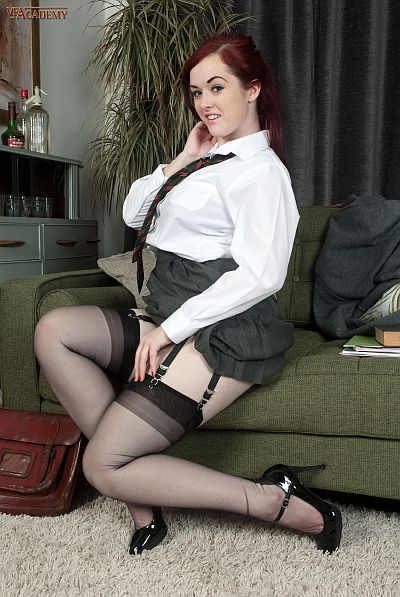 Jay's tits had developed quite a lot recently and grown to the extent that she had noticed boys looking at her chest. more frequently. It's not surprising as her boobs had started to fill out and press against the front of her tight, white cotton school shirt she wore to the academy every day.
She was explaining the situation to her personal private tutor about the situation and asked him if he would like to see them for himself. Not even waiting for an answer, Jay unbuttoned her shirt and uncovered the black bra she was wearing underneath, which held her voluptuous breasts firmly in p[lace.
'Sir, are you looking up my skirt?' she asked, suddenly noticing his eyes were fixed upon the sight of her white cotton panties and black stocking tops, which he could easily see as she was deliberately sitting on the sofa with her legs apart. Now seeing his particular interest in her big, white cotton panties, Jay stood and slipping out of her skirt she knelt on the sofa to give him a better view of her nice big arse in her school knickers.
Turning round to face him once more, she slipped the straps of her bra over her shoulders, and uncovering her milky white tits she juggled them together in her hands. 'Maybe you'd like to put your dick between there, and let me squeeze my tits up and down the shaft?' She suggested, pushing her cleavage together and shaking her tits about with her arms folded under them. 'I bet you'd like that, wouldn't you, Sir! Maybe I could get you to blow your load over them and I would lick it all off!' Then scooping one of her breasts upwards to the soft, red lips of her mouth, Jay stuck out her wet tongue and licked the erect, pink nipples which made them even harder.
Jay then sat back on the sofa and not wanting to take her panties off at first, she teasingly pulled the crotch to one side to let her tutor look at her hot, pink pussy slit. But then turning around, she knelt and tugged her knickers right over her rounded buttocks to give him a better view of her naked ass and cunt. 'I'm being very naughty aren't I? Maybe if I stick my arse in the air you could give it a good spank!' Jay said, getting into position and giving her ass cheeks a sharp slap several times with the palm of her hand.
After much teasing, Jay finally settled back on the comfortable sofa, and sitting with her stockinged legs wide apart she let her tutor watch as she spread her pussy lips and masturbated to orgasm.
Get our superb Vintage Flash newsletter each week - all the latest model info, updates, set preview pics and more!